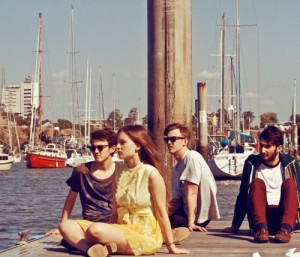 I'm not sure whether San Cisco's jittery 00s youthful springs are anything other than personal melancholia. The threesome gained notoriety thrashing around with their top buttons done up in the video for 'Awkward' (says a lot) as text message style social accuracies style the screen, telling of blissful youthful pains that 'we all love really'.
Moving forward, the self-titled album's choppy chords and pretty cymbals sound very early-naughties and lead singer Jordi Davieson's quivering vocals are a little over-worked. Cisco probably listen to a lot of Vampire Weekend, and there's nothing directly off-putting in that; but as more wood blocks are cracked out I am left with less of an idea where this sound will sit amongst a crowded scene of artists who utilise fresher concepts. There's novelty-branded acts (Darwin Deez, Grouplove) who combine a cutesy-ness with something newer, more interesting than this.
There's some well hidden structure here; two listens under your belt and single 'Wild Things' becomes more than tempting; but they sound a little too '03 to sustain much interest.