Ah Wireless, the natural habitat of the smooth US R&B singer: on Friday alone, John Legend, Miguel, Trey Songz, Frank Ocean and Justin Timberlake all played sets. The setting for such a notoriously aphrodisiacal genre was a masterstroke: the main stage was erected in amongst the Olympic village, former home to the world's horniest athletes. No wonder Miguel was ready to perform again on Saturday. He's a keeper.
From the limited amount of time I have been in the presence of Miguel, I can tell you that his stamina extends to his fashion too, as he performed half of his Friday show in a black leather jacket and it was hot as hell. Big respect for such commitment to the male R&B singer oeuvre. I admit it, I was killing time until Frank Ocean but Miguel won me over. With a strong, guitar-led rock element to a lot of his set and an assured stage presence, he seems made for summer music festivals. If you're looking for a three minute distillation of Miguel's leathery summery appeal, watch the video for '#Beautiful' (I implore you to overlook Mariah Carey and that fucking hashtag).
A bit later, Frank Ocean stepped onto the Pepsi Max stage and I was bereft and alone. Everybody had ditched me for (then mocked me for missing) Snoop Dogg/Lion/Customs Fiend. If you've listened to his debut album Channel Orange, you'll know that Ocean also has experience of being bereft and alone; I was in the right place.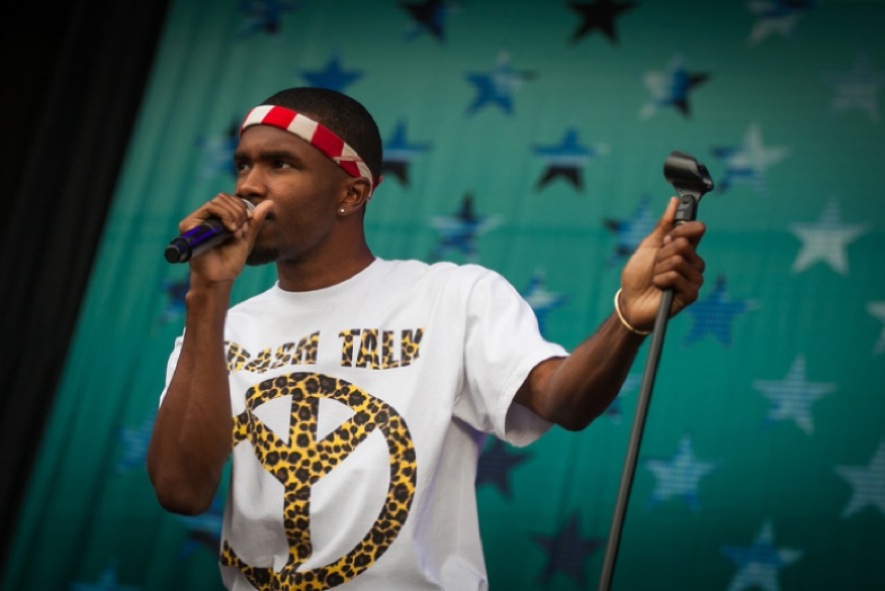 Image Frank Ocean @Øya
Compared to Miguel and his torso-flashing, Ocean was a subdued figure on stage and barely moved. He performed in front of a video of a gold BMW driving endlessly forward across an unchanging desert landscape. 'Novacane' received a huge amount of enthusiasm despite being released as a pre-debut album EP: music as deeply personal and affecting as his is fertile ground for a cult following. The girl in front of me was discussing the poetry of his songs and everyone seemed to know all his lyrics; it was that great moment when you realise the crowd has been living with the same album as you for 6 months.
Unlike some live acts, Ocean didn't shy away from falsetto on songs like 'Thinking About You' which always wins me over, mainly because hearing tone deaf drunks trying to keep up with him is amazing. He has an inherent gentleness about him which seems at odds with his hip hop roots. You definitely wouldn't expect an artist of his genre and status to be singing about unrequited love for another man, but on 'Bad Religion' he did just that and the crowd joined in. Frank Ocean is a man who apparently refuses to be anything other than exactly himself and when the crowd responds, it's hard not to love him for it.
Listen to Frank Ocean, Thinking About You on Soundcloud
[soundcloud url="http://api.soundcloud.com/tracks/39981864" params="" width=" 100%" height="166" iframe="true" /]