It's a challenge for me to continually review Standon Calling, a festival I've bigged up for five years as one of the countries' finest boutique events. The festival has a personal resonance for me but this is not why this review is a challenge – nor is it due to my journalistic tardiness (please, don't comment below!), it is, above all of this, because Standon changes little year on year.
Its stellar lineups host hip hop, folk, pop, buzz sounds and bands with electronic beats wiry enough to make you feel like you're plugged into something – and this never changes. Digitalism, De La (LA LA LA LA LA LA LA LA for anyone that turned up) Soul, Bastille, London Grammar and DJ Yoda provided some of the tricks this year. All the music is expertly chosen to suit a varied set of tastes fashioning styles from here to upstate New York and South America and all in between.
Whilst the lineup stays strong, the pool, a properly functioning back garden pool, is still charming – and the same goes to much of the site, which is as charmingly navigable as it was five years ago. It is, in essence, unchangeable in its current state – the festival is married to founder Alex Trenchard's back yard, and therein lies the chemistry.
For returners it's vibey as ever; for newcomers it's vibey for the first time.
Again, as with last year when I scribed for the405, there are parts which could see improvement – improvements which largely relate to the site itself. Noticeably, the area surrounding the main stage, leading right back to the rear of the cow shed is lacking in colour and variety – ground which has previously seen upturned Tardises and cars from cult movies was again punctuated by the presence of recycling bins and open spaces.
The retro photograph stand by the cow shed wasn't to be found this year, and the theatre company which used to sit close-by was absent for the second time – a real shame – site-central theatre and wider arts performances would decorate these corners so well.
Standon's campsite boasts things in this vein – Videopia, Hopper House and the Spoken Ink tent were all wide reaching and mad fun, but I wish some of this had been in the arena – lazy campers wouldn't have even known these, and the attached lit up forest area, even existed.
But later, intricacies pile atop Standon's nightlife; the wee hours as valid a reason for attending this festival as any. The new Big Top Stage worked well sonically and as a party venue for bands and DJs alike – DJ Yoda was a highlight here, as were producers and deck spinners who took the crowd through to the wee hours of the mornings.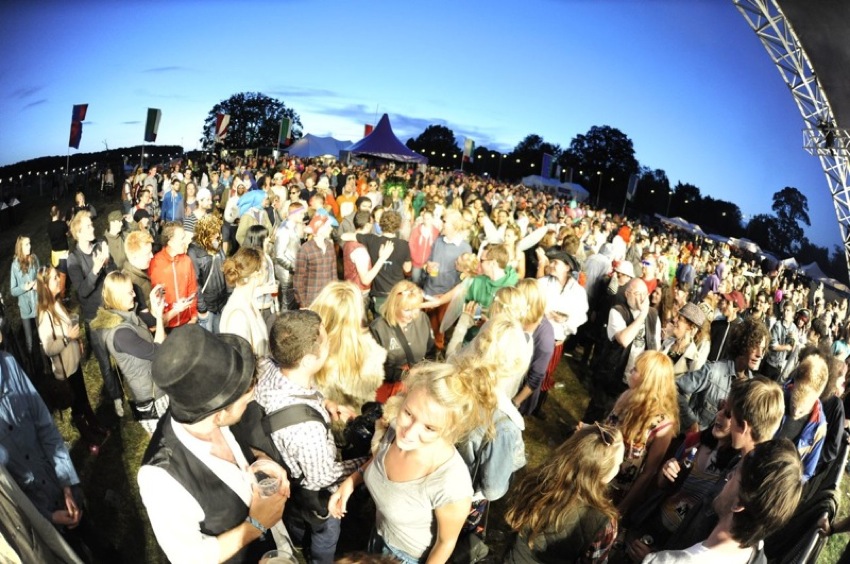 Efforts to equip the cow shed with a personality uniquely its' own are year on year bettered; and the theme of 2013 – 'Escape from the Circus' – looked amazing under the disco ball of nightfall.
The theme intensified with a large-scale trapeze installation where the second stage usually sits – but professional performances, hammed up and treated as a bigger show of sorts would have made this really spectacular – I'd guess budgeting plays its' card here.
ALUNAGEORGE were the only large-scale musical disappointments. Their sunday night set in the Big Top demonstrated strong musicianship, as has been widely reported across their debut LP 'Body Music', but live, Aluna's performance (a blogger recently suggested the duo should change their name to ALUNA!(George)) was exhausting – she spent an hour pegging it around the stage trying to be all next hype but was instead super plastic-y – and only once was George bought to our attention – when Aluna pretended to twiddle some dials on the synthesizer whilst pursing her lips and skanking next to the decks.
'Why's she pretending to mix?' my friend, who gives none of a shit about music production, said.
Aluna's was an aesthetic performance which won no fans; even the target market 17-year-olds who were at first puzzedly questioning 'Is that HER? Is that Aluna?!', were found Snap Chatting by mid set.
Set times, more widely, could have been cut somewhat. This was noticeable in relation to sets from Dutch Uncles, Public Service Broadcasting and Yoda – all great acts who struggled to garner attention for the full durations of their sets.
ALUNAGEORGE and corners in need of decoration aside, Standon's always a delight as proved by top headliners and another beastly theme. Crowd sizes were bigger than ever before (I'm talking Bastille and De La (LALALALALALA) Soul), but this expansion never felt compromising – although I'm not sure where further campers would go in terms of pitching space – the overflow field, at about a 45 degree angle, is a rather slippery topic of discussion.
There's already word out on next year and the theme is set to be cray-er than ever – I've heard that every-'before' but I'm still excited.
If Standon can consider a more central investment in the small stuff – in book stalls, performance art, theatre, hair salons – all the add-ons that make inter-band noodling half the fun, (Oh, and not book ALUNAGEORGE again), then it'd be well equipped to take home every award the festival season has on offer.