Green Man Festival is Wales' premier music and arts festival taking place in the rather stunning setting of the Glanusk Park estate in the middle of the Brecon Beacons – its rolling hills pave the perfect setting for four days of music muck and mirth, drawing upon some of the best artists doing the rounds.
Upon arriving on the site I am drawn to the Far Out Tent with the sounds of former Mekons main man John Langford, who seems to be in very buoyant mood blasting through a number of Mekons songs with charismatic panache, followed up by Manchester's up and coming Indie darlings Money, who embrace us with the kind of performance that brings back memories of early British Sea Power and The Crimea. They deliver something mainstream indie music has lacked in recent years – a front man who has an interesting stage personality despite battling poor sound problems.
The poor sound is something that does not trouble Patti Smith as she bellows through a set with more passion and charisma then you could ever shake a stick at. She gives every ounce of passion to every song with a voice that radiates all around the interior of the Far Out Tent. Rolling off the hits "Because The Night" and "Pissing In the River" with everybody singing along mixed in with the outing of one or two rarities, she was utterly resplendent being backed by her guitarist Tony Hanahan and Patrick Wolf.
I kind of felt sorry for Matt Berry having to try and follow her up, his set seemed to be lacking a certain something that you would need to follow up Patti Smith, maybe its Passion or Charisma? Despite being backed by a band full of former brit pop stars Like Mark Morris. It just felt flat leaving us all to ponder off into the night.
Friday
I was awoken on Friday by the beautiful multi layered melodies of 3 girls echoing from the Mountain Stage known as Haiku Salut, who built Yann Tiersen styled instrumentals that felt perfect in the basking sun. Peggy Sue seemed to be reveling in the sunshine with their country tales of woe before I rambled on over to the Far Out Tent where Bristol's finest space rock trio Thought Forms were about to do battle with the tents patchy sound as they crack into a set mainly dominated by tracks from Ghost Mountain. Jacco Gardiner is also someone who falls foul of the tents patchy sound, with his delicate Syd Barret inspired psychedelic pop, which fell too much on the quiet stage. Parquet Courts also seem to slightly fall fowl of the sound despite bringing a real raw edged energy to the proceedings with their jaunty garage numbers. Its wasn't until Moon Duo hit the stage that the place really rumbled with the duos sonic assault – which is absolutely stunning, mixing psych rock and kraut together, providing a toxic formula dealing with the sound problems by upping the volume. This was seriously amped up.
A short Stroll down to the Mountain stage to capture what was in truth as fairly lackluster set by 80s indie pioneers The Pastels, so I opted to move to more livelier sonic climbs Of Buke and Gase who were wowing people in the Walled Gardens, with their jaw dropping experimentations. There are no real comparisons that can be made with the Brooklyn duo who freely trade in time signatures a bit like Dirty Projectors with their multiple layers of fx pedals and fxed vocals.
After a short stroll back to the Mountain stage for a sing-along with Edwyn Collins, who is warmly greeted by a number of fans, who sing along with every word as Edwyn and co burst into 'Falling and Laughing' with a smile plastered all over his face. Rattling off hits from his catalogue, there seemed to be a genuine warmth about Edwyn as he sends his admiration to his backing band, he even at times jokes about his own illness. He makes this feel like a special occasion by bringing out his son onstage to sing 'See it in Your Eyes', before rattling off the hits 'Makes Me Feel Again', 'Loosing Sleep', 'Dilemma', 'Rip It Up' and 'Never Seen A Girl Like You Before'.
Racing on over to the Walled Garden stage I managed to catch the tail end of Teleman's set, closing with what feels like indie pops greatest hits, then I mulled around waiting for Rachel Zeffira, who is half an hour late due to having lots of very precious equipment. You know what they say – good things come to those who wait – and Miss Zeffira was certainly worth waiting for. Backed by a 10 piece band Zeffira produces some of the most beautiful serene and melodic experimentations drawing influences from both Kate Bush and Broadcast.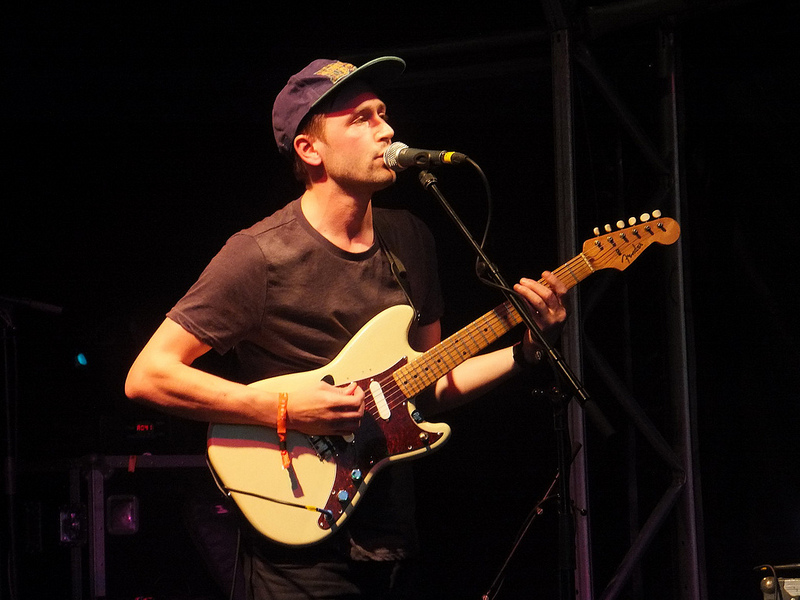 Teleman were a highlight on the The Walled Garden stage
For the choice of headliner I opted for Fuck Buttons in the Far Out Tent, I know that Kings of Convenience were sounding nice on the main stage but I needed something with a bit of brooding intensity, which is exactly what Fuck Buttons provided. With the squeals of electronic euphoria with the duo Andy Hung and Ben Power facing each other on the opposite ends of a large table full of electronics and contact mics, a long way from their formation: using Nintendo Game Boys. It very much feels as if tonight they were cranking through the gears with sonic drilling with an utter breathlessness – leaving everyone feeling stunned.
I then take a short hop across to the Cinema tent where I whiteness the closure of Fence Collective, with short sets from Pictish Trail, Seamus Foggarty and the rather excellent Eagleowl running into the early morning!
Saturday
Finding myself stumbling into Chai Walla's at mid day with a sore head and red-eyed to be soothed by the sounds of Bristol's Goan Dogs, who do their best Fleet Foxes moments held together with 5 part harmonies just nicely, before I trundle over to the Cinema tent to witness Inlet's debut gig, Inlet being Mark and Emma from welsh indie pop lovelies Islet's little side project. They played a stripped down melodic guitar and drums combo whilst images of frying eggs and sweeties were behind them.
I was in need of some rock and that is exactly what Wilde Smiles in the Far Out Tent deliver, with huge dollops of Bob Mould-inflicted slacker rock racing through a pulsating 25 min set, flying through song after song whilst bouncing around the stage.
Lord Huron was someone who I didn't really know anything about but was something very pleasing to the ears on the Mountain Stage with gentle alternative countrified indie that rang somewhere along the lines of Local Natives and Fleet Foxes. Then it was a short dash over to the Green Man rising stage to catch the hotly tipped RadStewart who delivered tightly wound post punk indie that had a subversive lyrical style akin to Half Man Half Biscuit – wry and witty lyrics.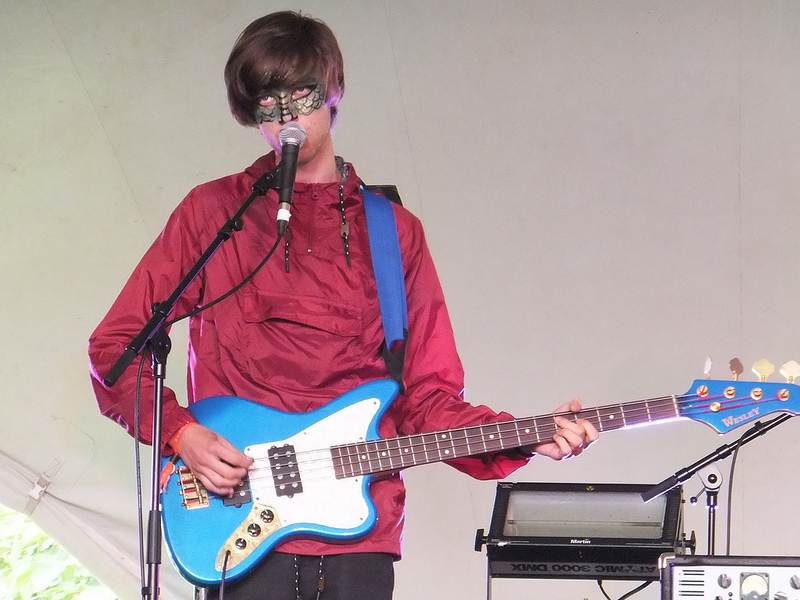 Radstewart drew a large buzz, and crowd, at Green Man – their name defs made us keen
Fancy some doomy alt country laden folk tinged rock, well that's exactly what Arboretum delivered in the Far Out Tent. Imagine Midlake if they had decided to add some excitement by upping the volume. They deliver the thrills of guitar solos, blasting powering riffs with pounding drums and fuzzy keys. Sometimes there is nothing more thrilling than watching a guitarist like Dave Hueman letting rip, it's almost Mascis esque in its beauty and each song feels like we are being taken on a journey, leaving me absolutely breathless.
Next up was a dash over to the mountain stage for a slice of good old American subversive pessimism from one of Minnesota's greatest exports, that being Low, whose set was largely drawn from the bands latest critically praised album The Invisible Way. Each song is given deadpan delivery from the founding cohorts Alan Sparhawk and Mimi Parker and any in between song banter is delivered with ice pick coolness.
That is something that can't be said about Little Arrow over on the Green Man Rising stage who deliver a highly entertaining mix of folk and steam punk which is highly entertaining, before I dash back to the Mountain stage for Jon Cale.
John Cale was amongst many other things the founder member of legendary 60's New York garage rockers The Velvet Underground, The Welsh musician found himself very much at home with the beautiful settings of the Beacons, rolling out subversive lyric after subversive lyric switching between squelching synths and high strum guitars. It was like a guide into the most subversive form of songwriting.
Olof Arnalds was enjoying herself over on the Walled Garden stage and it was clear for all to see as the diminutive Icelandic singer was suffering with an unexpected bout of the giggles as she laughed uncontrollably. This was a beautifully stripped down set of songs sang in both her native tongue and in English. Everyone paid tentative attention to every last word.
Following up was tonight's headliners on the Walled Garden Stage The Allah-Las, bring the sound of the Velvet Underground, The Kinks and Arthur Lee's Love back to life with a brooding sense of cool. As each guitar lick shimmers like Hank Marvin drenched in reverb the LA 4 piece roll out songs from last years critically acclaimed debut.
Then it was over to the Far out tent for a bit of After Dark action from producer extraordinaire Jon Hopkins, who bashed out a set so face meltingly intense that it left me seeing double. To put Jon Hopkins's set into words would do no justice to what I experienced, walls of melodic intensity delivered with fat crunching drones and pummeling time signatures. He is currently in my opinion one of the best producers on the planet, who can boast both Chris Martin and Brian Eno amongst his fans. I felt sorry for Nathan Fake having to follow Jon Hopkins so I stumbled off into the night.
Sunday
I rose with my swollen sleep-deprived head just in time to catch the opening act of the entire day, welsh folktronica duo Trwbador, who made light work of folk melodies and electronic beats with just enough oomph to get going. Oomph is something that Flamingods certainly don't lack, bringing to the Far Out Tent a hybrid mesh of psychedelic energy, drawing the lines between Tinariwen and Goat with bright Persian inspired colours, dancing girls and a cacophony of different instruments. This proves to be one of the real highlights of the weekend as they send me into a hyper active frenzy of flying limbs.
Next up was Gulp featuring Super Furries four stringer Guto Pryce delivering some nice-on-the-ears whimsical psychedelic with the nice vocals of Lindsey Leven Floating over the top. It was nice if a bit repetitive.
Mikal Cronin then brought some class into the arena of garage rock, and showed the kind of precise swagger you would expect from someone who is so heavily linked with the likes of Tye Segal and Nick Waterhouse. He leads the band through peerless hook infused garage rock songs packing the punches with hook after hook. It is every bit as exciting as garage rock should be.
I then potter on over to the Walled Garden to catch one of my favorite singer songwriters of the moment Marika Hackman, delivering her ultra bleak tales of love and deception whilst straining directly into the bright sunlight. I do like a good whole hearty Nick Drake style of songwriting and that is exactly what Marika delivers, with songs like 'Cannibal' acting as a perfect repost to the sunny weather. I then hung around to catch a bit of classic English singer songwriter and former Hefner front man Darren Hayman before dashing off to check out French soft kraut psychedelic electro poppers Melodys Echo Chamber battle various frustrating technical problems in The Far Out Tent. Offering up gentle lilting repetitive melodies with a gentle warm pop nuance building into fizzy, almost hedonistic intensity. Melody's vocals chime with cooing effect over the huge banks of synths, guitars bass and drums.
A quick sprint saw me catch the magnificent Anna Van Housewolf who was wowing people with her complex melodies as she mixed post rock with post folk, neo classical and more shall I say typical singer songwriter stylings. There is something very special about Anna and I can't quite put my finger on it, maybe it's that she doesn't really fit within any specific genre.
Next its off to the Far Out Tent to catch Unknown Mortal Orchestra, it is important to note that by this time everything is running at least half an hour late, due to technical problems. The Kiwi rockers are yet another band that tastefully bring back the yearning for yester year. Sounding like they had just walked out of the studio from the 70s with almost floydian styled guitars that shimmer with Jazzy tones. They have a very fm-friendly sensibility about them not that that's necessarily a bad thing.
Public Service Broadcasting are a very interesting band indeed taking influence and creating songs from old 1950s public service documentaries. Mixing split screen visuals in with the bands dapper image creates a medley, a visual and sonic feast.
Local Natives are possibly one of the very tightest pop acts around as they manage to seamlessly drill together 3 part harmonies that even Fleet Foxes would be jealous of, performing tracks from Gorilla Manor and from their recent album Hummingbird. This very much felt as if the band were very much at home with the big stage and beacons' beautiful surroundings, the band stated that Green Man was the most beautiful festival they had ever played. They looked to be very much a band that knew how to play the almost perfect festival set., delivering the perfect sing-along's of 'Airplanes', 'Camera Talk' and 'Wild Eyes' – which they dedicate to me.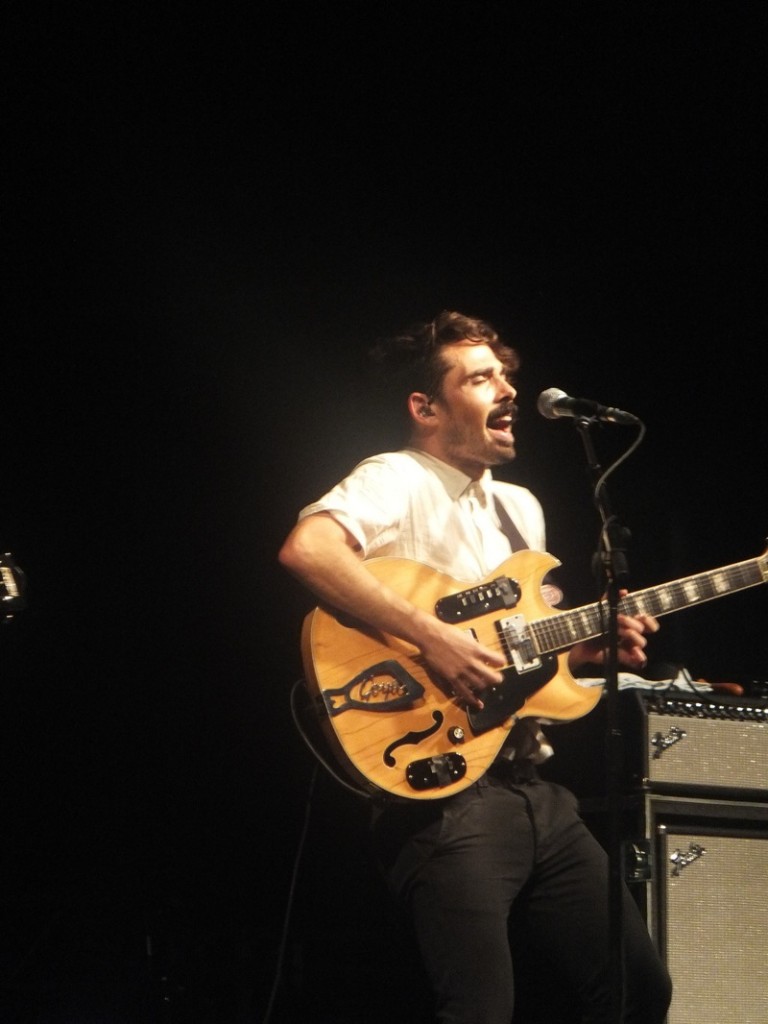 Local Natives whipped up layered folk tracks with charm and disarming honesty
Swans provided a perfect closing set for the festival, there is no way I can really describe the experience of watching Swans. They are a sonic tour de force unlike anything else, in fact they have spent the best part of 30 or so years balancing somewhere between the coldness of post punk and the sonic if not occasional melodic tendencies of post rock and arty noise rock, fronted by the almost talisman-like Micheal Gira through various revolving line-ups. The band apologies for having to cut their set short by half an hour, but they still deliver a sonic intense experience that is truly captivating in relentlessness without very much actually happening on stage. Going to a Swans gig is like having a sonic tidal wave punch you in the face constantly. Everything is perfectly orchestrated by Micheal Gira down to the nearest drop, his physical presence is like that of an overly intense Neil Young directing every aspect of the band.It was incredible and intense and almost nauseous, a religious experience unlike any other that leaves everyone feeling stunned, shaking.
This is the Church of Swans, leaving everyone to go and revel in the burning of the Green Man and dance until the night has gone.
We owe a huge thanks to Big Jeff for guesting for CultureOrTrash at Green Man. Let us know how you found Green Man on twitter @cultureortrash – and check back for editor @adamzx's comprehensive feature: Green Man – In photos.