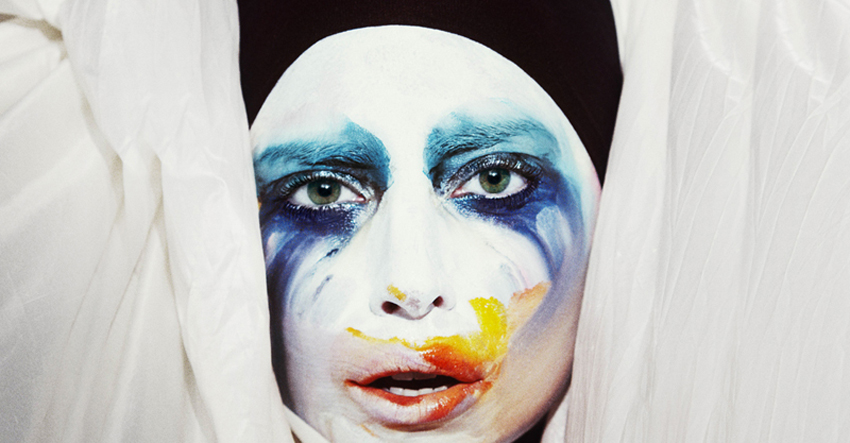 On the cover of her third LP, Lady Gaga is naked with a shiny blue ball between her spread legs. This is not sexual fortune-telling, this is art. Jeff Koons art no less, so take it seriously. Or don't. It's hard to know what to think, which is standard Lady Gaga. The question is, does the pop justify the art? Is ARTPOP the soundtrack to a woman pummeling upwards to pop victory or manically downwards into the abyss?
ARTPOP opens innocently with a Spanish guitar and for a few seconds, you might expect a rehabilitation soundtrack after the booze-drenched bender that was Born This Way. You would be ridiculously wrong: like its predecessor, ARTPOP barely lets up once the beat on 'Aura' arrives. Those who value Lady Gaga's previous successes in harpooning the cultural zeitgeist (the undeniable 'Bad Romance', for example) will now begin straining their ears, desperately trying to pick out those all important pop hooks. Essential to any pop singer wishing to emit the whitest of heats, those hooks seemed out of reach on Born This Way. Of course it isn't fair to reduce an artist's outpourings to such narrow parameters, but Lady Gaga only has herself to blame in setting the bar so high since her debut.
As such, you get the impression that 'Venus' was crafted for the pop bull's-eye: it tones down the heavier, less radio-friendly dance beats that pulsate elsewhere on ARTPOP and like 'Poker Face' or 'Bad Romance', it delivers a sugary sing-along chorus. The bridge names other planets with particular attention for Uranus, which helps to explain why this song is ultimately more trash than culture, a balancing act which Gaga has more deftly performed in the past. This is the first track that Gaga has ever produced single-handedly; maybe collaboration helps to rein in the bonkers:
<iframe width="800″ height="450″ src="//www.youtube.com/embed/aC6uZBY0wvQ?rel=0″ frameborder="0″ allowfullscreen></iframe>
Elsewhere, far stronger songs materialise as the blue-baller frolics amongst various musical genres, delivering a cheerleader's gift of a chorus on 'MANiCURE' (punctuation is everything on ARTPOP) before going one better on the synth-soaked slow jam 'Do What U Want'. Singing 'you print some shit that makes me wanna scream', Gaga has elaborated that 'do you want with my body' is a response to image-obsessed gossip rags but with R Kelly featuring, she clearly has sex on her mind. In fact it is sexual love and not (puzzlingly) art which permeates the first half of the album, underlined by the central title track, after which high camp descends: 'Donatella' is a power-pop riot with lines like 'walk down the runway but don't puke, it's ok' lampooning couture skeletons, followed by a song called 'Fashion!', which clearly wears its glee proudly.
'Fashion!' significantly includes Bowie-esque vocal affectations, bringing to mind his hit 'Let's Dance' in particular. Lady Gaga has made no secret of the fact that she writhes reverently upon the altar of David Bowie and here, as on album closer 'Applause', she expresses his influence unashamedly, accusations of lazy plagiarism wildly overlook Gaga's obvious creative energy:
<iframe width="800″ height="450″ src="//www.youtube.com/embed/pco91kroVgQ?rel=0″ frameborder="0″ allowfullscreen></iframe>
A moment of calm is delivered with 'Dope', which seems to be about alcoholism ('I promise this drink is my last one') and could be emotive, were it not totally undermined by the silliness of Gaga singing 'I need you more than dope' repeatedly. These mixed messages are disorientating, just as on the tremendous 'Swine', which contrasts "you're so disgusting" with "maybe I should have a little more". You could spend a long time picking apart these messages, which is true for so much of what Lady Gaga feverishly churns out and especially so with ARTPOP. Thankfully she is still intermittently producing the musical goods to back up her musings, ensuring the listener is compelled enough to wonder alongside her.