Fuerzabruta – a giant, joyful slab of carnivalito-inspired theatre – is as fun as it gets. This updated version of the original Argentinian work tremendously re-imagines the Roundhouse's space via a series of huge, dreamy images that continually out-do themselves.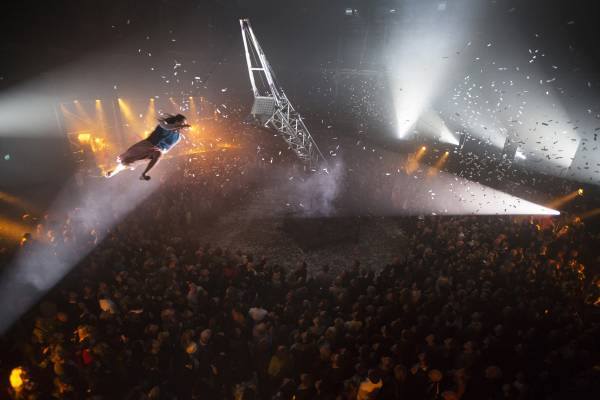 Punters are soaked and covered in paper during rave music dance-offs; belly flopping actors peer through pools of water suspended inches above heads; jesters restore chaos by smashing boxes over ticket holders as live drum scores bang and thump.
Each of these odd, wildcard movement pieces – which at first seem incongruous – later glue together and equate to images of crazed modern loneliness.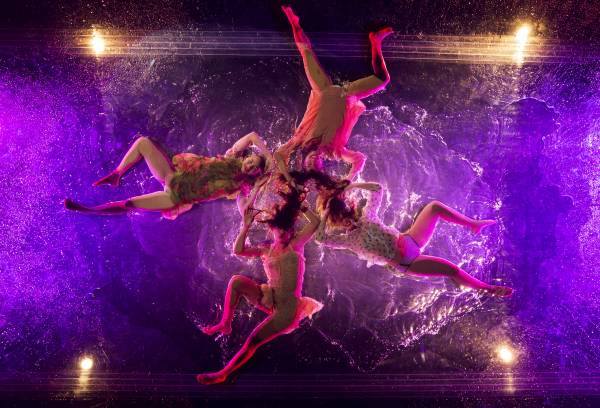 A city worker runs from something with his tie akimbo. Some women bound after each other, high up in the gods. Their prize is to eventually hold each other's hand. This mad show endlessly parties around us, blatantly unifying life's melancholia with the brief ecstasy of human kinship.
What is left post-party is not an understanding of characters in a play but a frenzied sense of the need to party on, to make fun of life's discontinuity by way of massive art. Asides the prettiness, Fuerzabruta's mantra is to campaign for togetherness, by drenching the audience in both water and love.