Thank heavens for Bugged Out's Weekender. Without it, we'd go to the north less often and feel far, far further away from the summer. Perfectly marrying the seasons and bridging the gap between winter's filthy basements and summer's open festival fields, the promoters once again host top names in electronic music, set within British institution Pontins.
And it's down the road from another British seaside institution: Blackpool. So it's like Latitude then, just with a big dipper and lots of women with L plates strapped on. But that's all outside this festival, and probably presumptuous of hen parties. So back to Bugged Out Weekender, which has handily swindled the entire of Butlins' flagship resort for their annual party. So food, drink, just mega stuffs is available around the clock. It's like being at home because there's shops AND you can bring your own beer. ANNND you stay in THESE: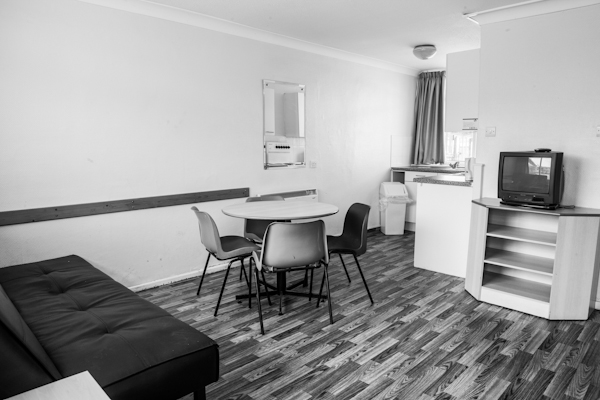 (We've requested ours have a splash of paint – Editor)
So the music. There's just loads and loads of it. To name a mere few kickstarting Friday, there's bass canon Erol Alkan who will probably be acting moody and atmospheric whilst hammering minimalist techno and re-worked pop hits with a cig in mouth, and accompanying him is his bessie and Phantasy Sound label mate Daniel Avery. What about that. Want more? Bristolian house authority Julio Bashmore and Andrew Weatherall will play, and expect live sets from Kolsch and man-of-the-moment, Todd Terje:

Saturday sees the 2 Bears, who will face the masses with their mix of seasoned dance hits interspersed with intriguing, lesser-knowns. Make way for the cavernous drops of George Fitzgerald, whose remix of Jessie Ware's 'Who Says No To Love' re-adjusted Ware's torn sentiment and took it somewhere feisty. Then there's DJ EZ, Sasha, Pardon My French. The latter are actually, in opposition to their name, a polite West Country producer double-act with tendencies towards de-cluttered, expansive house:

i-D Online Exclusive Mix: Pardon My French by i-D
If you can still get up on Sunday, Skream will teeter with one of the weekend's hardiest professional catalogues. But what's the prognosis for his Bugged Out set? Largely disco-facing:
But we don't even really mind who's on. Or which of the multiple venues we watch acts play in. Or about the swimming pool and Go Kart track. Well we kinda care about the Go Karting, but mainly, we're ecstatic to see BUGGEDOut! stage this FESTIVAL IN MARCH, this year with an emphasis on celebrating the brand's twentieth year. So go and tell your friends you've experienced Pontins and world-class sonic innovation somewhere near the beach in the north. The big names, the frolics, the havoc: that all slips into place.
There's lots of pricing options available for BUGGEDOut's Weekender but chalet's are selling out quickly! Grab the last few tickets here
We'll be writing and Tweeting from the event: @cultureortrash