What a meeting of minds we had in Wigan. That is, C/T's photographer River Stas and I, your Editor, at 9.35pm somewhere north of Watford. There we were, gulping cider with Barbour-clad thirty-something's waiting for the BUGGEDOut! express to Southport when a local chimed up and broke the flow.
"Problem with Southport is there's lots of Polish people.
Can I buy one of your beers?"
Forecast: trashy.
Before any music begins, you move into a chalet. One of a row of one-up-one-downers that are piss easy to lose come post-party-sunrise. But when you do finally make it back, watching the struggle from the (relative) warmth of bed is a nightly plus.
"Where the FUCK are we?!"
They had a point. By day, Pontins is a gambling hall and pub with none of the temptation of a rainy morning in Reading. Except if you go swimming, then it's like this: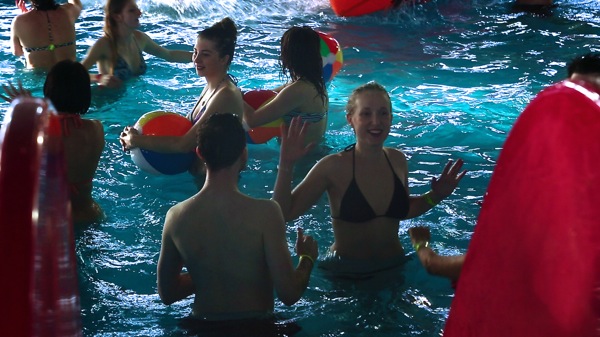 But let's hold up here: come nightfall, BUGGEDOut! Weekender is "it". The club space is engulfing and atmospheric, so much so that you could feasibly be anywhere in the world. Masses of strobe and flare and insurmountable size make Room 1 the instant go-to, but each of the three rooms give off their very own personality. Each increasingly robust, differing and forget-me-not.
And like a dive bass-first into Alice's Wonderland, you'll land on your feet at BUGGEDOut!, regardless of musical disposition: the crowds dance with room either side, there's little pushing at the bar and genuinely sober people (and fucked people) dance with elation that makes you feel like it's Christmas time in March.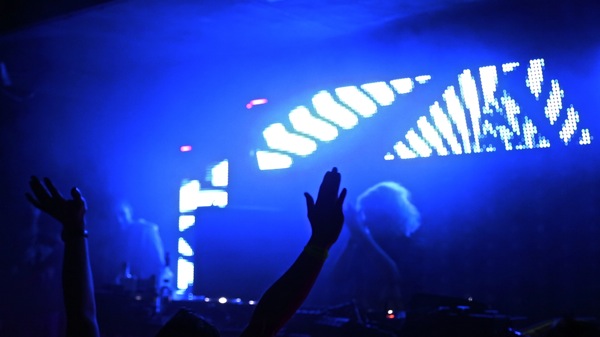 Heidi was a stalwart for all this elation. She finished her set and poured Finlandia down my throat. Sasha waved to front-row punters from the decks and The 2 Bears guffawed as clumsy drunkards dive-bombed the pool during their day time pool set. The camera guy didn't find the soaking so funny, but that made sense.
But it doesn't matter what you see. Crowded around the outputs for max-bass-in-face, BUGGEDOut! punters have little concerns for festival-type set scheduling. I'd have trouble believing a weak line up would leave anyone nonplussed, as acts drift into one elongated sonic experience. Take Skream's pool party set on Sunday afternoon. I was one of the minority to notice he wasn't behind the decks; having turned up to do an interview.
Such is the zeal in these rooms. Come 2am, instead of clock-watching for favourites everyone's just making the most of what's in front of them.
That said, we'll do a tiny run-down: we loved George Fitzgerald's maddened expressions; his face like an addled train driver ploughing his carriages off track; we caned it to Dusky and Skream's new-disco; to Daniel Avery and to Heidi and Erol's commanding sets; to Kolsch and Andy weatherall and to EZ – all here celebrating BUGGEDOut!'s twenty years in business.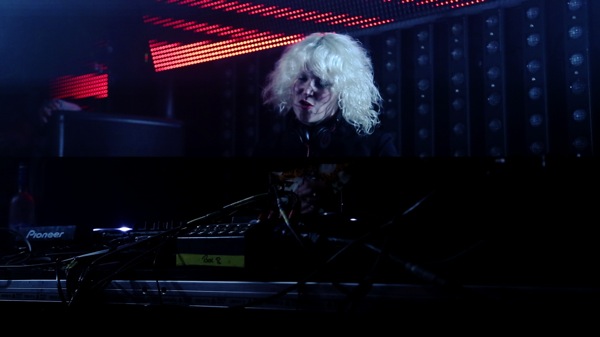 BUGGEDOut! is the Rio Carnival of dance. And I've thought about this. If you go to Rio, you go for the overwhelmingness and the pretty colours; the undisclosed cocktails with the umbrella and the dances with strangers. You with me? You go to Rio not for specific parades but for all of the parades, alight and glistening in tropical tones, together, as a whole.
BUGGEDOut!, too, is a festival of colour and light. Go and be overwhelmed. Leave the programme at home.
Check back for the exclusive video footage we shot at BUGGEDOut! Weekender. In the meantime, check out BUGGEDOut!'s official promo video for the event below.
Where you at BUGGEDOut!? Let us know on Twitter