'Hey, come on in everybody! I want us to hang out like we're in Ronnie Scott's!'
Chick Corea bounces onto the Barbican stage. The jazz pianist is 72; a survivor; one of few whom the likes of Miles Davis might have called a contemporary, even an equal. It wasn't that Corea, one of the genre's great impresarios in his own right, just played with them: they played with him. In as much as there is a 'there' and a 'that' in the esoteric world of jazz, he has been there and done that: from 'absconding to New Yahk' in the 60s to stalk John Coltrane et al, to playing on Space Jazz, the wacky 1982 album by Scientology founder L. Ron Hubbard.
Up the man pops in a blazer, tucked-in t-shirt, and sparkling white sneakers: decked out like Jerry Seinfeld, and with a stand-up routine to boot. He toys with the microphone, and asks in his East Coast drawl if we want to hear him play a work by the composer Bela Bartok. We do. Sure thing, he says, and whips out his iPhone and plays a YouTube video into the microphone; his grin wider than his piano keyboard. Think jazz in East London, think ponytail-sporting beatnik fusion fanatics for whom the millennium never happened. Jazz has always been earnest about being cool, but funny too? Rarely as funny as it is tonight.
In an informal two-hour solo concert, Corea heckles latecomers, fools around, and hauls up audience members for ferocious improvised duets. He insists he has no overall 'plan' beyond unleashing on us a series of 'experiments', such as his stubborn, violent rendition of Thelonious Monk's 'Work'. Of course, the pieces are much more refined than he says. Like a richly-executed cover of Stevie Wonder's 'Pastime Paradise', which Wonder commissioned from his friend because the soul star says the canon 'needs some new standards. Like, y'know, my songs!'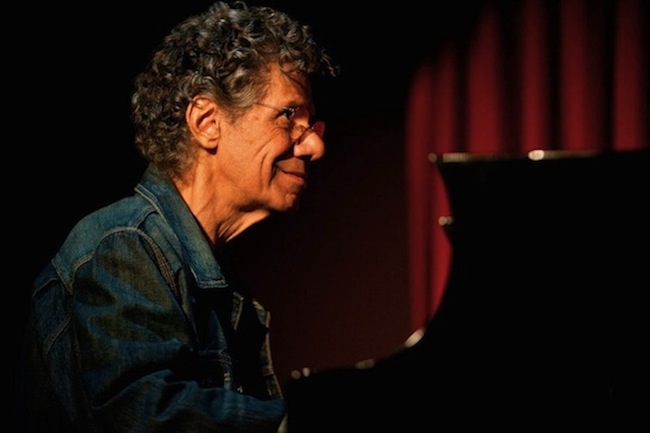 There are the old standards as well: Jimmy Van Heusen's 'It Could Happen to You' ('I'm on my thirteenth or fourteenth version of that'), a fanciful trot through Bill Evans's 'Waltz for Debbie', or Duke Ellington's 'Sophisticated Lady' rendered as frantic piano bebop. And there are the standards which are even older than those standards. The experimenter tries out passages by the classical pianists Chopin and Debussy, the latter in a suite of sketches Corea has recently written for kids, which gallop up and down the keyboard with his own childish vivacity.
Best of all are the moments when, as on his homage to his guitarist friend Paco De Lucia, he leans into his instrument to strum at the piano strings with his bare hands. There's something rock and roll about it – and from a happy-go-lucky beguiler without a 'plan' to speak of, well, that feels about right. Corea tonight is just as perennial as he has somehow always been, and just as unpompous, and just as mad-haired experimental.
Do you also lose yourself in the keys of Chick Corea? Let us know on Twitter
Check out Chick in action on his 2014 world tour: