If there's one thing that cements Ghost Beach's rep – that band from Brooklyn flooding the Hype Machine with eager, up-tempo pop – it's their likability quota. When Culture or Trash met them after their chips 'n' gravy evening meal backstage at Heaven last month, we found a couple of guys from Brooklyn who wanted a fuck load of fun.
"The great thing about playing shows here is that people seem to be excited and respond and get it", said the band's synth don, Josh, who lusts over the boundless energy of the British gig audience. "Sometimes we play shows in the states and people don't get it".
Their show, much like their album, is a quick-fire rallying of the troops, their summery pop both pleasant on the ears and room-filling, whether in front of club audiences or teens – the latter of which are on the cards tonight. Ghost Beach are at Heaven supporting Neon Trees – "a fan band, not press band, not buzz band" the headliners clarify during their set. Here, Josh and Eric "Doc" Mendelson may have it easy – luckily, just like their headliners, they too are evasive of marketing tactics and industry slogans. Their crowd is dying for a dance.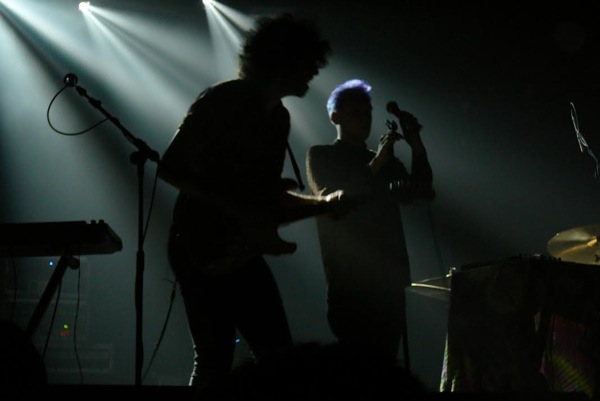 And duly, Heaven went from nought to sixty in minutes during Ghost Beach's toe-tapping support slot turned arm-raising singalong. The energy is thanks to lead man Josh Ocean, who morphs into a club-ready raver when the lights turn on.
Both Josh and bandmate Eric make no small issue of the importance of the live show to the band experience. Josh cites an Empire of the Sun gig from a while back: "It felt like we were in a club", he quips – "It was the way they presented it." All synths and big crescendos, Ghost Beach are also as much bop as they are drop.
Although the band have enjoyed success in the US, Josh makes no secret of the difference between UK and US shows – the UK jump around more, but perhaps adversely, set times are often earlier. Is this because the UK accept their mathy, quirky synth-pop, and the US disregard newness? "We like Howard Jones – in the states that's quirky" muses Josh, "Here, everywhere you go you hear shit like that – people connect differently over here."
We Brits are good at making the most of things, and our early-evening party vibes sit well with the band. "This is kind of new for us', says Eric. "All our shows in the states have been late night dance parties – we don't go on until midnight … Theres something cool about playing for younger crowds."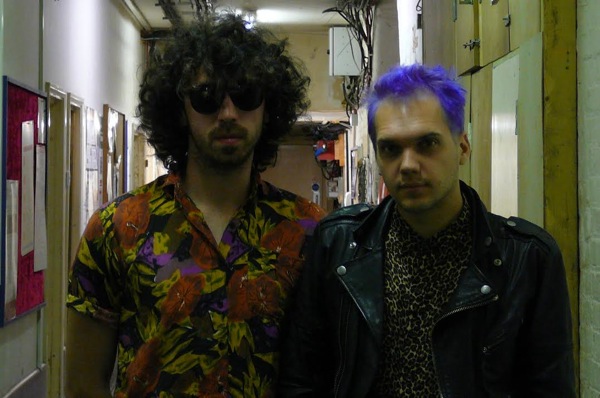 The sun-blushed choruses of the bands' debut, Miracle, play with the best of pop's chained melodies, and given the vastness of the sober crowd – jumping along in unison to these 'club ready' hits, it seemed opportunist to put the question of the teen fan to the band. Would you take One Direction tour support? I ask, perhaps un-coothly.
Josh dismisses me immediately. "Were not those type of guys". "We're not trying to break into the boy band pop world. We make pop songs , I dunno it's weird."
He finishes up as a roadie shouts "Don't lie" from behind the sofa.
Eric takes his time. "I can't answer that question", he admits. Chart success is a testing topic for a band used to the club scene, but one they shouldn't shy away from. Their sound is massively radio friendly.
At the receiving end of pop cheers or otherwise, Ghost Beach have little interest in 'fame' – that hollow form that shapes you as a band. But Ghost Beach have veered close to commercial before: brilliantly, and at first thought somewhat unbelievably, Eric and Josh were given full use of a Times Square billboard last year – instead of self-promoting, they used it to push a political message about music piracy. Theirs is a stance so admirable it's almost daft, but it realises the band's desire for super-strength organicity.
Perhaps it's their admirable come-what-may approach that makes these songs convey with such energy on stage. Ghost Beach are swaying pop crowds, teen crowds, club crowds and hip crowds at once – the latter is perhaps their preference, but what of it when there's a crowd to please?
I ask them what matters most. "Great shows with energy and people having a great time", Josh says, instantly. We're sold.