The Camden Crawl is a sneaky little thing. Blink, or don't read a listings guide that week, and you'll miss it. From Mornington Crescent's Koko right up to the pubby ends of Chalk Farm, the Crawl unites pubs, clubs and bars in the spirit of (mostly) undiscovered music. But it is only with your eyes firmly peeled that you'd spot a Crawler, DSLR in one hand and CC clashfinder app in the other, eagerly making their way between venues.
Peek inside the venues, and you'll find a sprightly, well-managed pop-up fest with some of the coolest stuff you'll see in one place all Summer. A Culture or Trash favourite – and a venue symbolic of the kooky togetherness of the CC – was St Michaels Church, towards Camden Road, which when laced with electronics, became an oddly magical hipster worship spot. Cute folk outlet Haiki Salut were a perfect fit to play in a church, as was Moon Ate The Dark, a neo-classic electronic one-man-band who carefully conducted his own orchestra of samples and live peddling. Together with a piano accompaniment, he sounded holier than anything I've ever heard in a church before. It was all topped off by the peeking press, papping musicians from half way up the altar. It's a beautifully ingenuitive space for music, but clapping – a huge church no-no – seemed very, very odd indeed.
But the plain joy of the Crawl is being able to access vintage pubs and late night clubs with twenty quid entrance fees at the cost of one wristband. Big gigs aren't the talk of the day. They go unnoticed amongst the general business of the lineup, which commands a huge rosta from '90s revivalist Steve Mason to soul-popper Alexis Taylor, to about fifty bands you've never heard of. But if there was one signed band to catch, it would have been three-piece Brooklyn synth-poppers Au Revoir Simone, who bottle looping vocals and a looming, bassy restraint through three synths and occasional guitar to bring one of the most concentrated, perfected live experiences we've seen recently.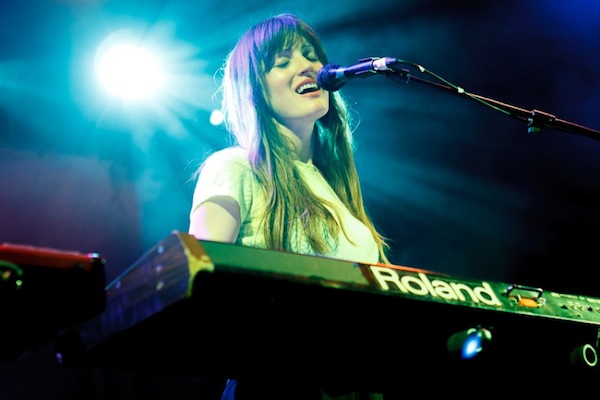 Photo © the lovely Wunmi Onibudo, @wunmiohhh
More than the lineup or the vibe inside some of these trinket-sized venues, the Crawl is a right-of-passage for the Londoner. I challenge you to amble round Camden in any better fashion, drinking pints in pubs you've never heard of and watching bands you may not ever hear of again. None of it really matters – if you put new experiences first, the CC will revitalise your love of London, even if the thought of retracing the miles of walking between venues anytime soon is as appealing as the Camden Underworld's toilet floor.