If we're to define festivals as a community lumped together in field, then We Are FSTVL would be the best festival in the UK. Everyone at this brilliantly titled "Airfield of Dreams" wore euphoria on their sleeves all weekend, despite the part-time sunshine of the last Bank Holiday of the season. Perhaps all the positivity stemmed from people making the most of things: customers seemed to choose either the Saturday or the Sunday to party, few chose both; or perhaps the fest's name played some dogged psychological game with us all in getting us hyped. We.Are.FSTVL. Yes, we all were, and I've never seen so many people look so happy to be – well – FSTVL'd.
The site itself is perfectly sized, and never too crowded from midday to midnight, which meant you didn't need the VIP bumper ticket to find plenty of spots at the front of stages. For a house and dance festival, the creative team did a lovely job of it, as the odd selfie op (giant daisies, those beachside 'insert head here' things) cropped up between stages, and there was always time to stop, given the site's easy navigability. The airfield is small enough to find people if you wind up alone, but still big enough to get lost in the tunes and ambience – which is quite a feat in any terms.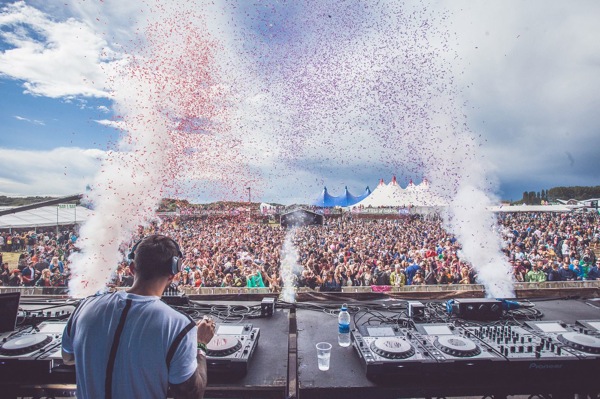 It was only a shame that The VIP Village – a separate stage that housed names like MK, Shadow Child and Route 94 – was available at a bumper price. I didn't fell all too FSTVL-y to charge half over again for access to one extra tent, but hey, MK and Shadow Child particularly whipped those VIPs (including myself) into action. But the pricing seemed to work: ironically, The VIP stage was often the most jam-packed of the whole site.
The other admittedly tough-to-judge mishap with this size of fest is the dishing out of crowds come headliner o'clock. On the Saturday, Knife Party – who weren't technically headlining – had quadruple the crowd of headliner Richie Hawtin, as did Jamie Jones in another tent, which made the fireworks at the close of Richie's set seem a bit futile, as only those left miling around the main stage benefitted.
Not that anyone was there for the fireworks. Both Richie and Knife Party delivered engrossing sets on Saturday evening, and Sunday nights Radio1-friendly lineup was Culture Or Trash's official Summer-beginner: Duke Dumont rallied the troops (with plenty of references to older material peppering the set), leading to Annie Mac on the sundown set; and Fatboy Slim closing things off. Normal Cook's energy leaves you wondering why any of his contemporaries even bother, he's got "it" and then some – but it's a shame he insists on teasing samples from his '90s staples (Right Here, Right Now, Praise You) in favour of thirty five repetitions of Eat Sleep Rave Repeat – still, I'd probably do the same if it was me up there for the twenty-something'd year.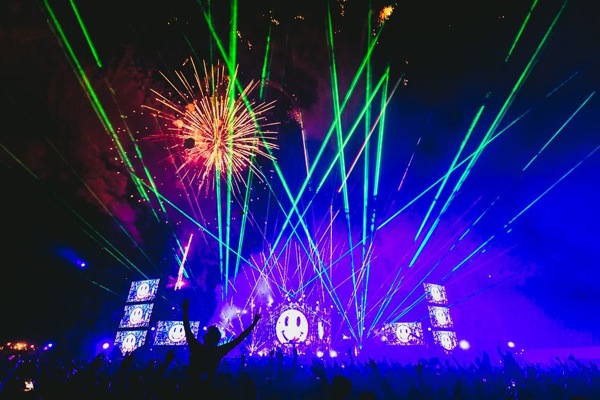 Other weekend-makers included TEED in the Desperados shed – an awesome side venue that was far bigger inside than out, Rob Da Bank and European beat maker Chuckie, who summed up this Ibiza-in-Essex fest just perfectly with an eccentric, colourful set.
But We Are FSTVL isn't about the names, or clutching the programme, or for googling clash finders. It's a quiet little champion of the festival scene, and a true-kickstarter to the Summer with one of the best inbuilt senses of spirit I've felt in a while.