Another new festival for us to sink our seasoned teeth in to! Life's all right, isn't it? It is when the newcomer is promising; Domes, Sounds, Visuals, Forests. I believe these were a few of Julie Andrews' favourite things.
Some of these enterprising efforts can appear a bit slapdash and resemble a couple of MDF stages set up in a field with no forethought to the end product, Surround seems intent on offering a proper immersion in to the head space of its creators, the Entirety clothing co. With no point of reference to make to previous years, it's difficult to say with any certainty but Entirety have a lot of knowledge, experience and connects behind them to show signs that this will be one hell of a do. Here are two reasons to get hyped:
Around here, we say DOMES! Not tents!
I don't know about you, but I really can't abide with tents at festivals. They're big, dipping, arching, monstrosities that always adversely remind me of clowns without actually having any ill feeling to the big-shoed blighters. The sound is always touch and go depending on your location and I always feel bad for (if also very confused by) those who situate themselves behind the support stands. Surround have banished tents, physically ostracising them from the grounds for being too ugly and have also turned open-air stages away at the gates. Instead they have got the Global Domes team in to provide much more stylish, sound sensitive structures. These 'geodesic' domes will also provide the festival's visual guys with huge, blank canvases to project their wildest, most colourful dreams on to. Being domes, there's NO support stands! TICK. Being domes, there's minimal chance of sound escaping. DOUBLE TICK. Yeah, I know, I'm getting a bit excited. But this is a great innovation. Global Domes state that their shape ensures that "electronic music has never sounded better". Someone's pretty confident! So what will you be hearing in these igloos of audio?…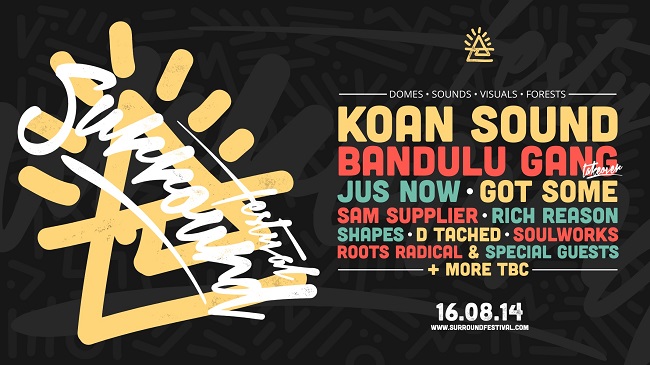 Surround Sound
Calling on some of the big players of the Bristol electronic scene, there's a definite opportunity here for anyone looking to spend a Saturday outside of the usual club sphere.
Headline act Koan Sound will be a huge draw, having built up global acclaim for their willingness to mix their frenetic influences with ridiculously slick (if that's your thing), well thought out and innovative production. Expect growling, sometimes sludgy bass at one point, unashamedly retro funk melodies the next, and maybe even a touch of the ambient. Signed to Skrillex's OWSLA label, they are widely regarded as the saviors of what is otherwise a largely mediocre output.
Taking over the main dome in the wee hours will be fellow Bristolians Bandulu Gang, who will be hitting you with bass, that's all I have to say. The strictly vinyl Bandulu label ran by long-term collaborators and Young Echo collective members Kahn and Neek will be showcasing some of their prime Grime talent. Anyone wanting a head down skank, look no further.
Hosting their very own dome Shapes are offering House, Electro and Techno from the likes of Appleblim, Crump, and Billy Disney who has been a mainstay of the Bristol scene since the 90s coming out of St Pauls. Judging by the Temple of Shape line up and the feel of the festival, expect this one to be huge.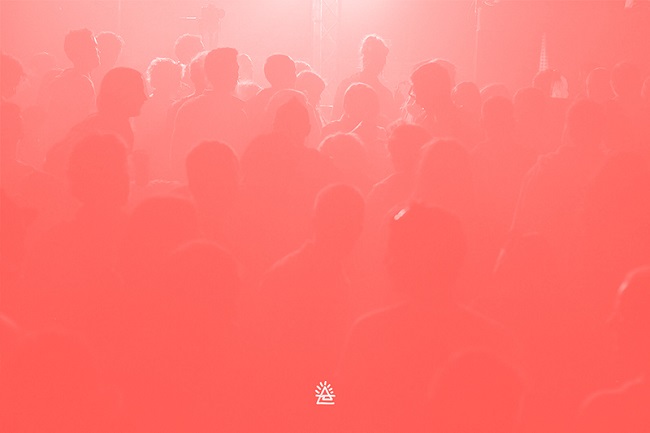 Head down to the forest stage for The Roots Radical soundsystem and expect to hear an all-vinyl dub onslaught with a secret headliner. Well worth checking out to sample some dubplate treats. Who doesn't like a secret headliner, hey?
You would be mistaken for thinking that Surround is a solely Bristol-based shindig however, with Manchester deep house and future garage heads D tached taking over the main dome for another section. Soon to be starting their own label, it would be a good chance to hear what they will releasing in the near future. Also coming from further afield is London's Sam Supplier who you may know from his residency on Rinse FM, and the Warehouse Project's own Rich Reason.
Perhaps wisely on its maiden voyage, Surround is sticking to a straight 14hour blow out. It'll all be kicking off at 2pm on Saturday 16th August, and finishing at 04:00 the next day. Camping is an option, so don't worry if you need to hit the hay or hit it harder. This looks like an exciting one, and what better way to spend a weekend than at a new party? See you in the domes!
Surround Festival takes place on Saturday August 16th. You can check their website out here