It was nerdy enough for Tim Minchin to make the trip for. Add a thousand or two Ben Folds Live t-shirt-clad musos and you've got yourself a clear image. The jazzpop cult icon hit The Barbican for the London leg of his never-ending tour, which this time sees him collaborate with a different orchestra per city. In London, it's the turn of The Heritage Orchestra, who Folds says he chose above the thousands of orchestras cities like London and Berlin have to hand. That he approves of our orchestra count puts us on good turf, we reckoned.
The presence of the orchestra over a live band – or indeed Folds with just a piano – is certainly a novelty, the full sound and dynamism of appearance tying well with Folds's upstanding key slapping and hair wobbling, but it also left dainty ballads which otherwise should have been left alone – Picture Window, for instance – almost irritatingly fleshed out. As nice as it looks, and sounds on paper, no one needs a double bass to pad a ballad. Still, his Concerto For Piano And Orchestra was why Folds had rocked up here in the first place. It was a year-long project of his that went down a storm with his punters, duly met by the standing ovation he had hinted would be nice as he began playing it.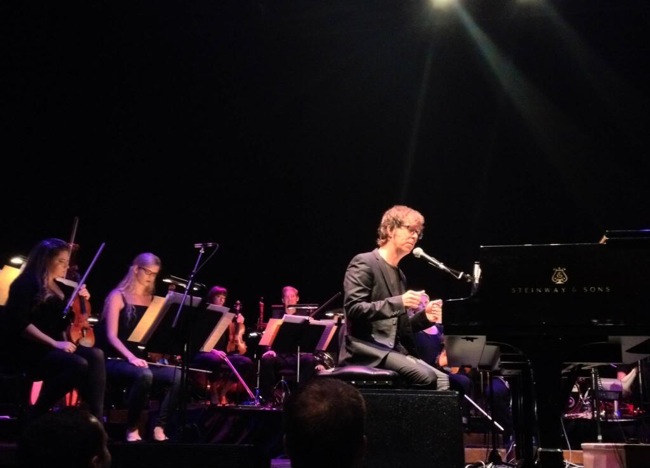 Image taken from a fan's perspective at The Barbican, © Laura Patricia Jones, @L_P_J
Despite the musicality diluting Folds's intimacy here and there, The Heritage Orchestra did add pomp and show where it was due. This show's bespoke 'Rock This Bitch' (a Folds-live staple that if you're reading this you'll already be a fan enough to know) was triumphant – and hilarious – the pianist forcing an obviously well-prepped orchestral unit to ad-lib. Folds used the full orchestra to piece together a score, all but the poor French Horn, instructed to "make something up". Shouts of "Shut up!" replaced the helpless conductor, who stood and watched as a live hoe down became the most memorable section of the night.
Two "totally spontaneous" encores put Folds in line with the tradition aspects of showmanship like his, and once more, Ben Folds fans – some of the most committed around – went home having had their biannual injection of Folds, an experience that's never bettered, nor worsened by time, but dutifully maintained. Here is a '90s icon who hasn't done anything particular to keep bums in seats, and has had very little mainstream attention lately.
Instead of peaking or falling, his hilarious, convivial stage mastery is a talent subscribed to the stage for good. We'll go again. Roll on the next biannual Folds top-up – we're pretty sure we know what we'll get.
We interviewed Ben Folds before his Barbican show. Check our Youtube page shortly to see his takes on culture and trash, but we'll no doubt shout about it when it's live anyway.
Check out Ben Folds Five's 'Sky High' below