Lee Fest feels a bit like a deleted scene in High School Musical – musical and above-board? Yes, actually. And just like a Hollywood movie, it was constantly boiling, as the sun shone over the Clocktower – the arts and crafts venue -, the Wondersands beach, the two music stages and all variety of face painting and sciencey, knowledgey type stalls in-between.
It's named after an actual guy called Lee, who you'll see wandering around the site like a celeb-for-a-weekend, shaking hands and getting fully stuck into the fun and games. On Sunday, he was – as tradition states – in the middle of the Wondersands sand pit, getting involved in the yearly paint throwing celebration that separates the ravers from the behavers by splattering those that turn up in brightly coloured dry paints. Hugging and shaking hands, he makes a polite, well-facially-trimmed ringleader for most of Croydon and Bromley's kids that flock here. Lee Fest is probably to thank for stealing the V/Reading debate from under many of these teens, who instead have a local hero in Lee.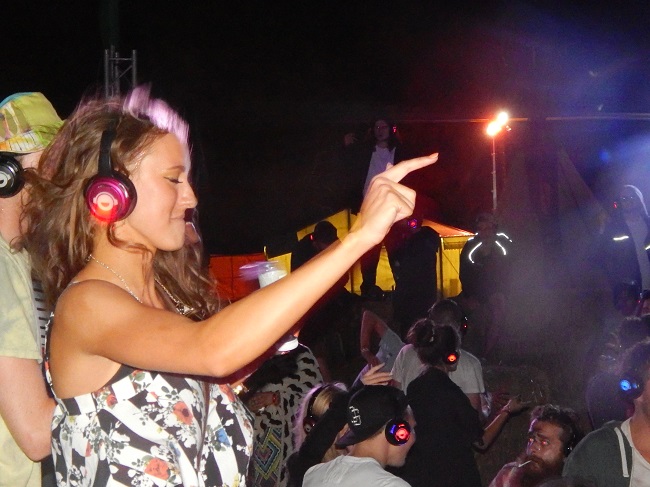 For a festival that could easily play on limp references to music's past, Lee Fest does a strong job of curating a healthy lineup. On a site that is – in UK festival context – as big as Glastonbury's little finger, there are new bands, old triumphant bands and bands that sound a bit like new bands but miss the point slightly. Of the latter creed were Frankie Forman, a two-piece that evoked a Del Rey aesthetic without any real musical soul, but they were at least a good example of the intimacy that can be achieved in the festival's closed-in stage, the Lava Lounge. On the other hand, London-based anthemic pop set MNRS won passing trade and lasting praise with an enchanting mix of huge vocal play and even huger club-ready beats that sat together snugly like a sexy couple.
Childhood were another Lava Lounge highlight, whose paced steam punk gazed into pop's territories, making for a perfect end-of-night treat on Saturday: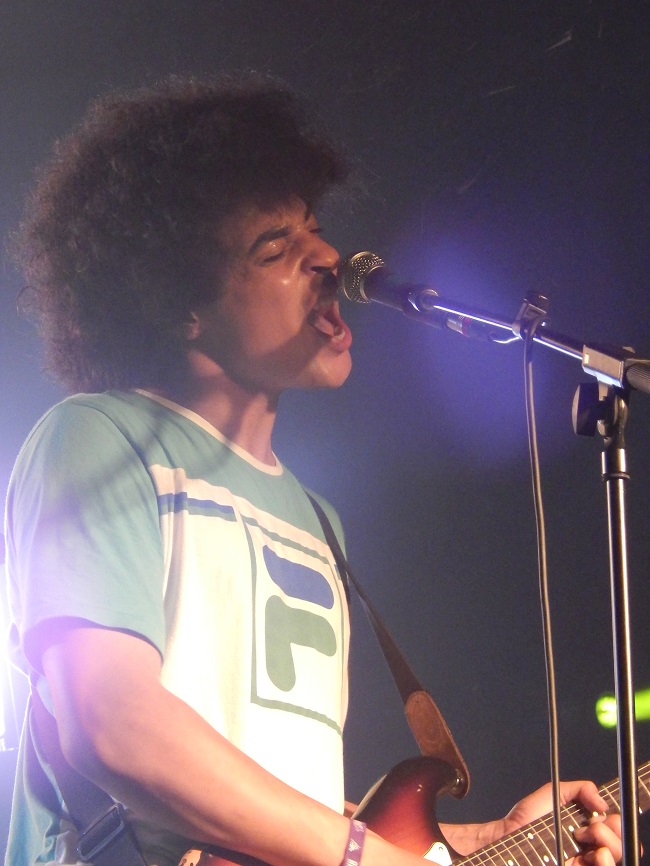 Perhaps Rae Morris took advantage of Lee Fest Closing in on us late on Sunday, but whatever the case, she won all the hearts. You might know her as Bombay Bicycle Club's newest female vocalist (see particularly 'Luna') but own her own, she is a newly solo Florence Welshian vocalist with the technical know-how of, well, somebody asked to tour with Bombay Bicycle Club.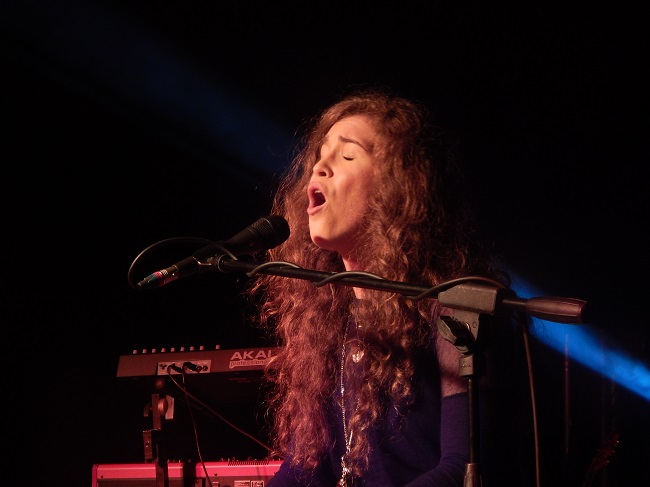 Her constant references to the intimacy, and the pin-drop silence of her set – the only of the Lava Lounge across the weekend to demand an encore – showed off a mutual love from stage to crowd and back again. It's ironic, perhaps, that a singer who fancies herself as solitary turns such slight thought into such gilded stage craft. You can watch our interview with Rae on our Youtube channel soon.
Elsewhere, the big names put on big shows. It was unfortunate for rock veterans The Cribs to have clashed with the World Cup Final, but their well-documented ability to turn vibrancy on with a flick of their greasy hair and a misplaced chord or two even made a mosh pit out of this football-starved lot. The infrequency of the crowd meant Saturday's main stage headliners, Dan Le Sac and Scroobius Pip, almost throttled any preconceived notion of what a Lee Fest crowd might be. Standing right at the back, theirs was a huge performance I've not felt before at a small festival – Pip and Le Sac, festival veterans, read poetry and politics from laptops unaware of just how impressive and lasting this set was.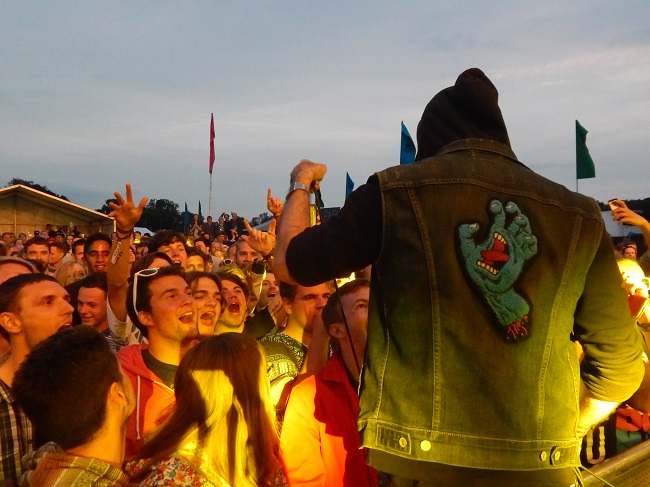 Unfortunately less could be said for Karen Marie Ørsted, MØ to Radio1 and her fans, who oddly mimed her way through most of her time on stage whilst stomping around with an unlikable swag and a carefully crafted statement ponytail which she flopped in front of her mouth each time she pretended to sing. It was a shame to discover this bright new pop image and media darling is a bit of a trump.
A wonderful weekend full of family flavour was spent in the Kentish countryside, surrounded by one happy face: that of Lee himself, who all weekend gleefully bopped away and doused himself in dry paints in sandpits and mud wrestles in mud pits in the name of old-fashioned fun. He's a great role model, he and his moustached face that dons the fest's logo and reminds us of the brilliance that Kickstarter schemes can achieve – a lovely little festival with real community spirit.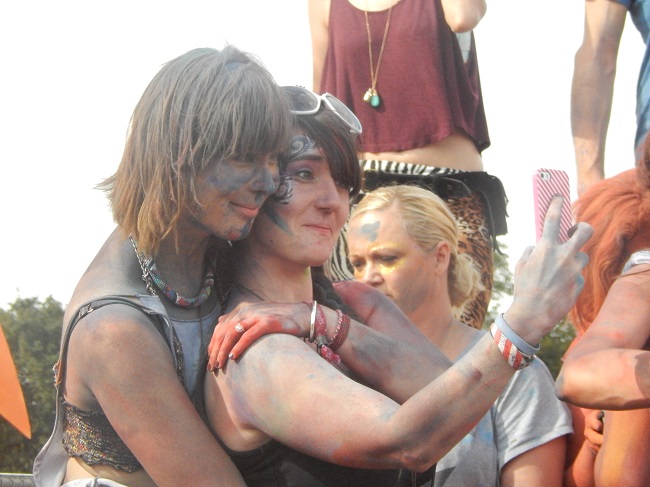 Photography © Adam Bloodworth, except Childhood, © Neeraj Morzaria
Before this review is tied up, we must add that Lee Fest's dealings with press is odd: the fest provided no amenities to the reviewers it asked along – not even a cursory line of plugs – phones were to be charged in the merch tent, we were told.
Instead of us lot, an in-house team of photogs and videographers documented everything from a press centre that we weren't told of – it was all in the interest of getting us to experience the festival more. In truth, and as they have asked, it is only right to include that as well as the ups, our festival experience involved having our tents burgled in public camping – just one of a spate of burglaries that occurred all weekend in a tiny campsite, and after multiple complaints. We have to say that we'd prefer the festival concentrated on better regulating their security next time, and helped us lot out with some space to work in.
Teething problems amongst an otherwise superb festival experience.
[We felt the above an imperative inclusion as it honestly documents our experience as working press – and as the festival punters we were asked to be – at Lee Fest.]