Us mainlanders have a pretty intense love-hate relationship with the UK's very own White Isle. First up each Summer, there's the UK's primary rock festival. Then in September, the ultimate party docks there for one weekend only. Summer fun is bookended on that island. It means a couple of things: a piss up on a boat (two if you're man enough for the way back); talks about a "mainland" we were never aware of and a whole new look at Portsmouth's Spinnaker Tower.
When all the ferry-schlepping South coast mania is over, is Bestival really worth it, for a disco ball a few inches bigger than the last big disco ball somewhere else?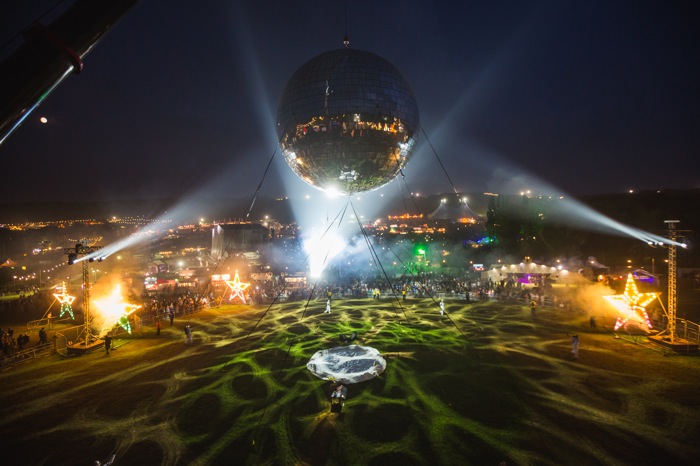 Photograph © Victor Frankowski
Bestival has year-on-year retained its crown as the biggest intimate party in the UK. That's not a contradiction. You feel lucky to have in on this, along with the other sixty thousand. Everyone's getting in, but still they feel cared-for. It's all to do with Rob and Josie Da Bank's style of hosting. The site might be huge, but there's barely any space left for doing nothing in. Immersive theatre pops up all over, and art installations capture attention as you enter the site.
The Feast Collective was something different in another corner: a calm collection of world foods to pick at from essential outlets like London's Psychic Burger and Crabbieshack, and up the hill, the Bandstand and its neighbours hosted Science talks and picky entertainment pieces. Follow the hill up and you hit the Ambient Forest, full with comedy, film, niche theatre and nighttime hideaways. A rousing hour's worth of Shitfaced Shakespeare on Sunday's afternoon was the perfect pre-emptor for a final evening's corkage.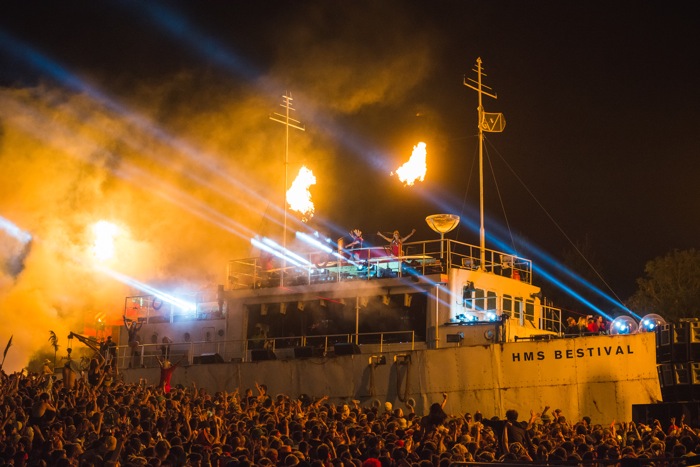 Photograph © Carolina Faruolo
In the press tent, conversations were rife – is Bestival (gasp!) more commercial than V? Yep, for sure. There are almost more branded stages, promos and boozers at Bestival than there are artists playing, but the difference here is that brands are curated to fit in: ultimately, it doesn't matter who waves what in your face when partnerships are made fun – Sure deodorant guys, anyone? In fact, remember the brands next time and you'll save on packing – a couple deodorant sticks and myriad mouth washes are currently making my Autumn far more sanitary than my Summer. And the Sure deodorant guys in the main campsite were funnier than all of the professional comedians I've seen all Summer.
By the way, the music was good too. There's a cohesive amount of stuff performed out in the campsite, which is great for boozing on tent beers and still catching tunes. Catfish and the Bottlemen, Ezra Furman and Childhood were impactful in this nicely sized space housing the giants of the small scene, some of which will make the inner confines – and the huger stages – of Bestival next year.
Bestival was the stage for another of the Summer's Caribou outings, whose instalment of dreamtronica ebbed slowly into the night in Far Out on Friday, which on Thursday saw '90s alt rock supremo Beck make friends with a whole new generation of fans. Lauren Mayberry of CHVRCHES also made it to Far Out this year, despite failed applications to perform at Bestival in her pre-famous years, she said grinning on stage; but there's a lack of sustaining flow to a CHVRCHES set; whose tracks, all bar the catchy 'Recover', kind of sink into unrecognisable electro-pop fuzz of the 2014 creed.
It was a different story for Dan Le Sac and Scroobius Pip, who closed off three albums' worth of collaboration with an emphatic set to rival Chic's on Sunday. Pip's 'Thou Shalt Not', text-in-hand against the prancing strobes and white beams, was defiant and touching; and Le Sac, left on stage alone in the end as ever, requested "just one more minute", as his production noodlings with Pip spun out for the last time. RIP to those gods of soul and rap and explosive electronica.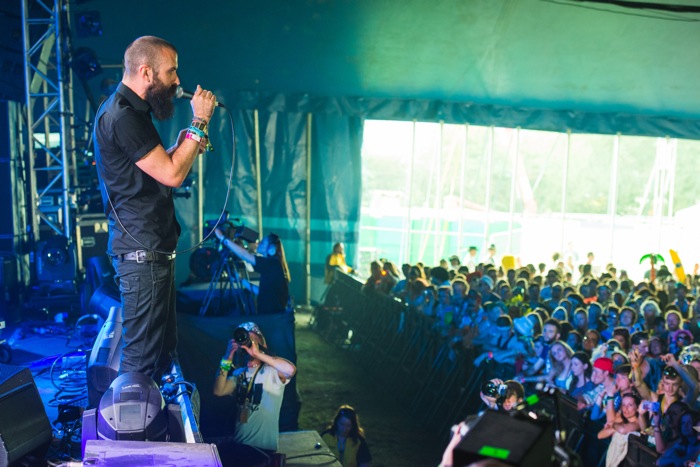 Photograph © Carolina Faruolo
Onwards, to the pinnacles of the last festival weekend of the summer, and we're greeted by Outkast, who seem less interested in being on stage than the people watching them on it (although only slightly); then Foals, then Chic and Nile Rodgers to cast the glitter ball into flight.
This was, for Foals, a new step, and perhaps an un-arranged one, as Foals sets go. It was to mark the final stage of their Holy Fire tour, which has spanned some eighteen months. Riffing on closer 'Providence' before the audience had barely settled in, Foals' welcoming message was perhaps their biggest yet. What followed was an exercise in psychopathic sonic athleticism, Yannis in and out of the crowd like a cat exploring his turf, the band boldly playing on; jump starting and progging up the least beastly of their first album, then encouraging pin-drop silence for 'Spanish Sahara' before conceptually fucking with us some more. Those wasp nests in their heads, still stinging like mad. A noisy 'Inhaler' to close spelt a fourth album perhaps fuller, harder, angrier – have Foals just got going? Shudder at this brilliance.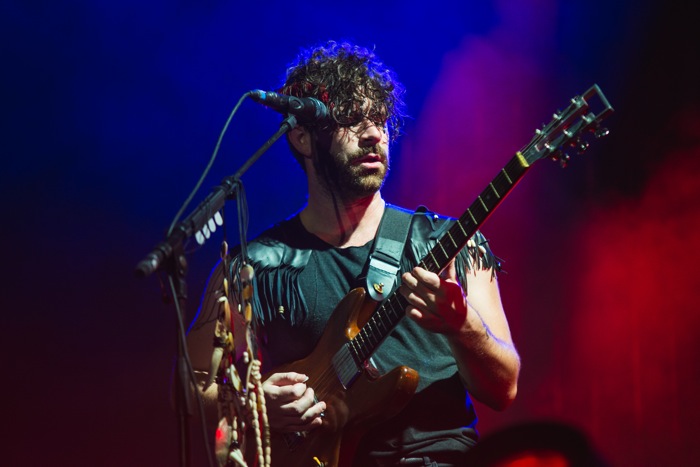 Photograph © Caitlin Mogridge
Whether you watch a Chic featuring Nile Rodgers set for thirty minutes or for the length of their two-hour-long set is kind of irrelevant. Medleys that are sometimes adorable and sometimes wane-y and indulgent progress from killer hit to killer hit; their tunes interspersed with offshoot stories of stars the band have met and worked with, and adventures they've been on. It's a two-hour disco with everyone at it, but your Chic memories will suit your own time frame – from the casual Daft Punk fan to full-blown disco revivalist. We stayed for half an hour and had our fill, though the fireworks behind the newly-crowned world's biggest disco ball at the set's close were well worth cuddling up to.
We could talk of the nightlife, but you know we mostly don't remember. Bestival: you hard-to-get-to, all-encompassing South English riot – we'll miss you.