Bugged Out! Weekender is the funnest thing to happen to the UK in its silent, winter months.

Three years in and this year back at its first, sturdier-than-Pontins home of Butlins Bognor Regis, Bugged Out! Weekender is the funnest thing to happen in the silent winter months. It's admittedly odd spending the weekend with thousands of people into clubbing in an environment suited for anything but; yet the surreal wandering from naff pubs on site down to the sea, then back again into the booming chasms of techno music within is a thrilling way to spend the weekend. Little do the locals know.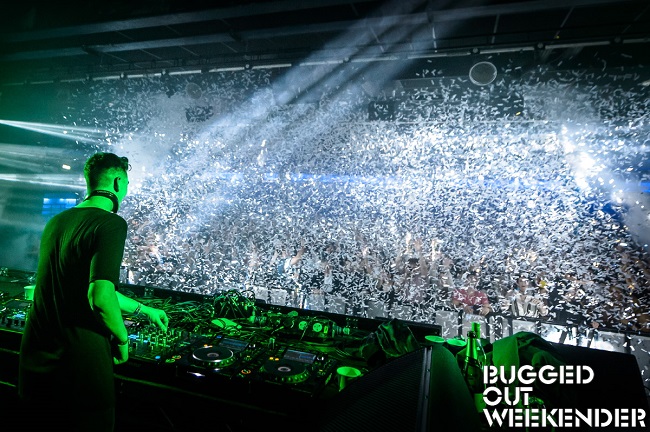 One bloke outside a pub in the middle of Bognor town centre aside, the divide between Bugged Out! Weekender and the local community was more sea-splitting than Bognor Pier. Actually, loads more – Bognor Pier, all 100 metres of it, doesn't even reach the shoreline. But actually, it may just be the best thing about this seaside town. Sure, it's January, but the levels of pseudo '50s frivolity extends only to one sad concrete crazy golf course and a helluva lot of midday drinkers in Spoons.
Back on site, bar a plastic bottle or two, it was nice that very few (note, no) furnishings made it onto our balcony from the floors up above us at the Ocean View hotel. I'm basically saying the crowd, despite their image, are pussycats. A discerning lot who're eagerly awaiting whatever's going on on stage next. Though this should be the messiest festival, its atmosphere is actually concentrated and celebratory and any getting on it – wheeeey – is trouble-free.
Across three or four large rooms, some of which have to be accessed via the cold dark of night – a sobering experience at 3am – the Weekender's sets are constantly worth shimmying venue-to-venue for. Dusky, Heidi on Friday, Tiga's powerful, sideways-leaning synth drone on Saturday, then a theatrical light show from the Chemical Brothers, party-closer Swoon included. Then there was something about choosing Ten Walls over Four Tet afterward – Four Tet appeared again later that night in an ingenious b2b, but Ten Walls was also perfect, undulating melody lines and matching gigantic presence. It filled these huge spaces with a very hypnotic type of cool that's going to fare well in summer.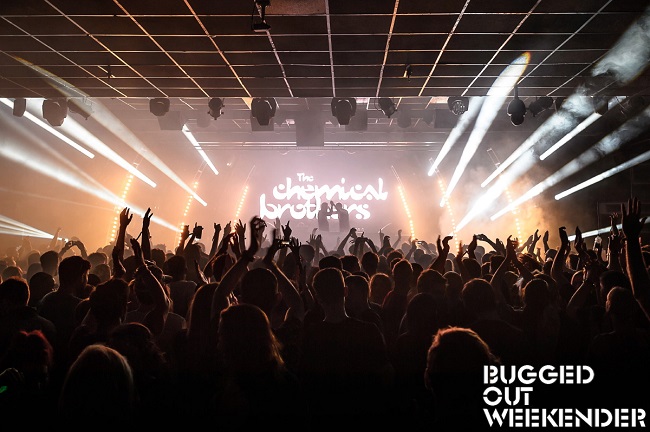 It was the perfect occasion, worse-for-wear on Sunday, for Fatboy Slim. First, he lent a calm fans-only set to the pool party, but it came without Fatboy's rave spirit. Though it wasn't his fault. The decks were far beyond standing point in the pool, meaning swimmers were stranded in shallow water, too far away; but back on dry land in the evening, his was the party place to be, with all of the gimmicks in tow. Note, Gangham Style samples aplenty. He was followed by the party team: belters from TEED, still taking respite from the headdress as he ponders on a second LP, and then glitter canons from Skream, who'd been hanging out all weekend waiting for his set.
If there is one grumble, it's the lack of Bugged Out at Bugged Out! Weekender, who bar a quiz night cast no shadow on the revelry. A quiet brand they may be, but a few more events across a site this big, this out of season, would only fuel the love. But there was a Skream set ready to close proceedings, the ideal pairing to Bugged Out's shtick, if you think about it: it's the festival closest to the sea, and furthest from January's grumpy tidings; which means Bugged Out! Weekender overcomes both 'Dry' and 'January' before you've even set foot on Butlins turf. Skream'd be proud.