An hour fifty isn't a long time to rifle through all those hits. The performances are unhurried though intense.

It was never supposed to be a comfy watch – and it isn't. Interval-less and spartan, Peter Konwitschny's production of Verdi's 1853 opera La traviata ramps up the tragedy. The story is one of punished virtue. Violetta, a high-class hooker, terminally ill, repents her sins for the sake of her new lover, the sanctimonious Alfredo – only to be spurned. The aesthetic is bare and the singing heartfelt.
For the uninitiated, English National Opera (ENO) does what it says on the tin: solid performances drawing crowds from afar, and sung in English. It's a sticking point as to whether the translations detract from the beautiful enigma of the singing. My own view is that many lines aren't clear enough, even in English, for you to not need the 'subtitles', so they might as well have been in Italian. But it's an incidental point.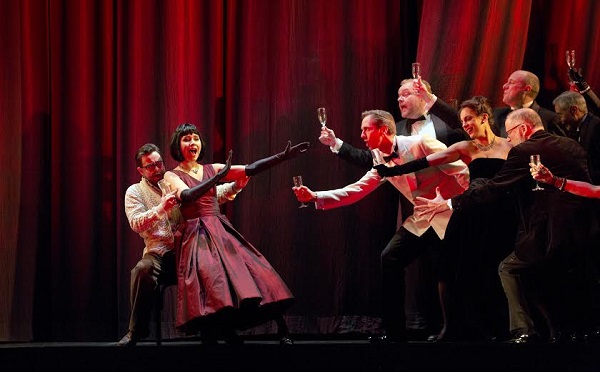 Poor ENO – it's been through the financial wringer, and visually, this is an almost distractingly frugal production. It starts and finishes with a solitary chair on the stage. In between, curtains are torn and playing cards scattered, but that's about it for props. Everywhere is loss and messiness; at the show's deathly climax, Alfredo is asked to crudely squeeze past the whole first row of the audience to sing in the aisle. The source material begs for opulence, which would provide context for these moments of indignity, but even the black tie aesthetic manages to look very basic.
All eyes on the music, then. In her UK debut, playing Violetta, Elizabeth Zharoff acquits herself well. Ben Johnson is no less impressive vocally, but his stage presence is impaired by an unhelpfully 'geeky' outfit. A final word for the crisp conduction of Roland Böer. An hour fifty isn't really a long time to rifle through all those hits, but the performances are unhurried though intense.
La traviata is at the London Coliseum until 13 March. Tickets: 0207 845 9300.