You'll be talking about the multi-channel headphones on the way home, not life's great unknowns

From the roof of the National Theatre to an audience of twenty-five to the Roundhouse's Studio Space, this time with room for ninety-four, non zero one – following the heaps of accolade they received for their immersion and creative thinking in the past – make it to their biggest stage yet, and they tell us in the programme that mountaineering is a play about commitment and decision-making; yet behind these spiny topics, Mountaineering is really about conviction.
It's also bare-bones'd twenty-something. Do you just 'decide' not to have a baby at 30? Are you what you thought you'd be when you were five? Or where you thought you'd be ten years ago? These weighty, common and daunting questions are staged with reckless ecstasy, and us – the audience – are centre stage. Imagine turning round, to the stranger in the row behind, and confronting them as to their biggest decision of the last decade, courtesy of a notepad and pen. "Why did you choose to buy a flat in London?" I wrote to the lady behind me. "I knew London was my home forever" she scribbled. Later, audience members – all clad in headphones for the duration of the play, the play is set around a radio show – opted to go on stage and reveal their all, a bold piece of immersion, but it proved more useful to those confident in public speaking than it did for the play.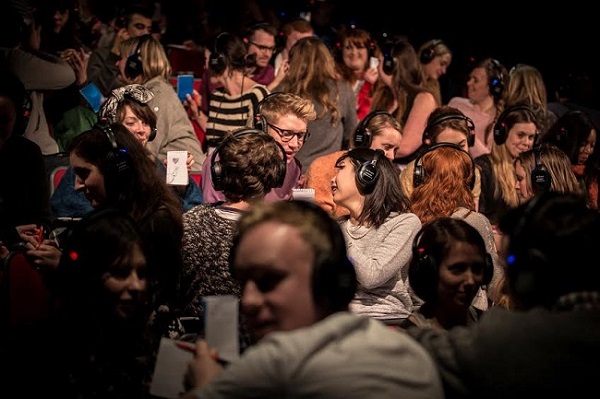 Theatre troupe non zero one thrived in the Roundhouse's Studio, where they've finally found room to bring a neat audio-visual concept alive, and to a properly large audience. In-between the songs on the radio and our thoughts there's plenty more audience input required, led by an on-stage radio host, who trips between presenter and narrator to bring us all closer together, normally so apart in the closeness of our comfy theatre seats.
Some of the visuals are more entertaining than genuinely thought-provoking. When a group of children talk about impending adulthood we learn that they know a lot more about the subject than we'd think – it's an enjoyable, warming set of visuals, but it doesn't cloak us in layers of assuredness like it should. Our nomadic uselessness, before it growed up.
Mountaineering hits at the abstract colours of adulthood via a lonely night on the motorway, which is really posing as life's unstable journey. It seeks to pose the big questions in life, but instead of responding to its themes, the message is instead in the individual experiences us, the audience, have with one another as the play ticks on, and in a plethora of pretty images posed in modern ways.
It's an impressive project, and a wonderfully pulled-off first large production for non zero one, but you'll be talking about the multi-channel headphones on the way home, not life's great unknowns.