Even more than it is about theatre, Fiction is about science – wherein trial and error are to be celebrated.
Come in, sit down, pens out, final call for the loos, etc. The setup of Fiction is the rigmarole of a boring lecture – one which makes you fall asleep and start dreaming. 'We need to be able to guarantee absolute darkness' reads the preliminary PowerPoint presentation. The lights are duly extinguished (not even a fire escape to be seen) and we are immersed in a dream-like soundscape.
Although all is pitch black, the mind's eye perceives digressive but occasionally lucid scenarios and environments – forests, hotels, car parks – emerging seemingly in real space. As with real dreaming, the plot is hazy but there are certainly 'scenes' – and our 'companion' Julie guides us through them with a whisper in the ear.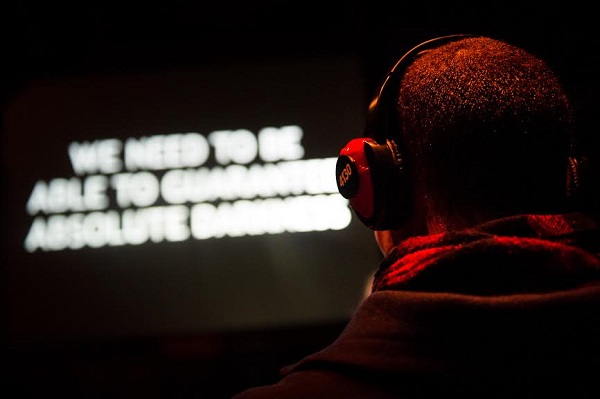 To explain: there's zero sight, but we've all been given nifty surround-sound headphones, and there is also sound coming from speakers in the room. Some punters speculate afterwards that certain scents are wafted in too, although I'm not sure. In any case, each of us is now isolated in a personal bubble – the state in which we dream in real life – because in the seating arrangements, we have been separated from whoever we came with.
And it's effective. A convincing imitation of subconsciousness, Fiction is actually more of a psychological experience than an aural one; its creators David Rosenberg and Glen Neath having consulted University of Cambridge expert Tristan Bekinschtein. As in real dreaming, the experiences, dialogues and journeys are tantalising and frustrating at one moment, clear and even mundane the next, but always ephemeral.
Sight deprivation is a powerful thing and it's possible to get carried along at least momentarily – indeed, the experience feels nothing like an hour long – although the reality of doing this with a roomful of others is that illusion-shattering coughs and fidgeting are never far away. Had the 'narrative' unfolded with greater clarity, texture, and even exoticism, it might have been even easier to properly lose ourselves. But even more than it is about theatre, Fiction is about science – wherein trial and error are to be celebrated.
Fiction is at Battersea Arts Centre until 21 March. Tickets: 020 7223 2223.