It's an uncorrelated postmodern set up, but there is dynamism in these performances and commendable ingenuity throughout.

Some words aren't able to be distinguished by lip reading. The words make shapes that are too similar, so to read words, the real work lies in a close study of the face and its expressions. The message sounding out in Lippy? That the truth, and our feelings, aren't always communicated straightforwardly, that things in life can get skewed and that we may not always know the truth. In key with its thinking, Lippy – in a production sense – is hard to make out, its "noises" abstract, meandering and experimental. But it's base is within a real life horror story – that of a family that starved themselves to death.
We begin with a post-show Q&A where an actor details the methods behind lip reading. It's a light-hearted ten minutes, and at one point, a clip from Martin Scorsese's film Casino plays to hilariously detail one way things can be misread. It leads to the play's main bit, an intense peering into the lives of a family that've starved themselves to death. Their paperwork is shredded in bags they lay upon, and microphones swing back and forth in front of our subjects as they lie about dramatically in a place – and piece – that reminds of Sarah Kane's masterful Blasted.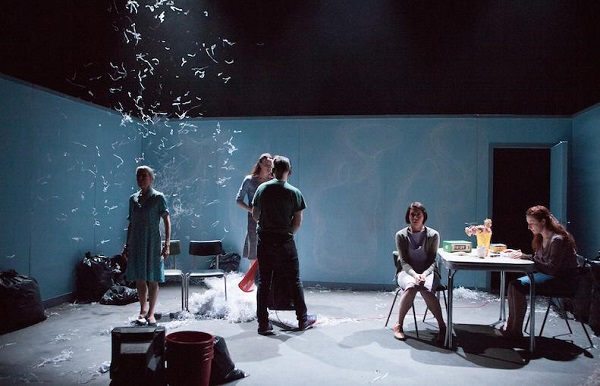 Our protagonist appears here and there, removing 'dead' flowers from vases, and blowing the shreds of paper and our cast about with a leaf blower to symbolise their tragic deaths.
Lastly, the mouth of one of the victims appears in full frontal Not I pastiche. It's a jarring copy of Beckett's famous Mouth and its unapologetic sameness forces immediate comparisons, though this time our victim's speech was hyper realistic and intelligible, even matter of fact; the beauty and femininity of Mouth dashed with an unpleasant set of gawdy teeth.
Perhaps her point – indeed Lippy's point – is to make real the themes of Beckett, to stage them and ingrain them in our lives with dynamic lighting and a whizz-y production bits. After all, that Mouth made a lot more sense than Beckett's. This production is largely an uncorrelated postmodern set up documenting a plain horror – there is dynamism in these performances and commendable dose of ingenuity throughout.