Before it was a Disney film it was a book, and before it was a book it was a play. In the 1904 of JM Barrie's Peter Pan stage show, amid the paranoid falling of empires, the threat of world war loomed overhead like a big fat zeppelin.
Timothy Sheader and William Village's production contrasts the nostalgic fantasy-land of boyhood with a man's world of conflict. Between scenes, Peter Pan's troupe of Lost Boys double up as rifle-toting marching troops; as the generation of young men lost to war.
The terrific thrill of the boys' fights with Captain Hook's gang of comically diverse and incompetent pirates – comprising ninjas, Vikings, and an effete highwayman – constantly gives way to the brutality of "actual" violence. Scenes are punctuated with sombre military marching songs.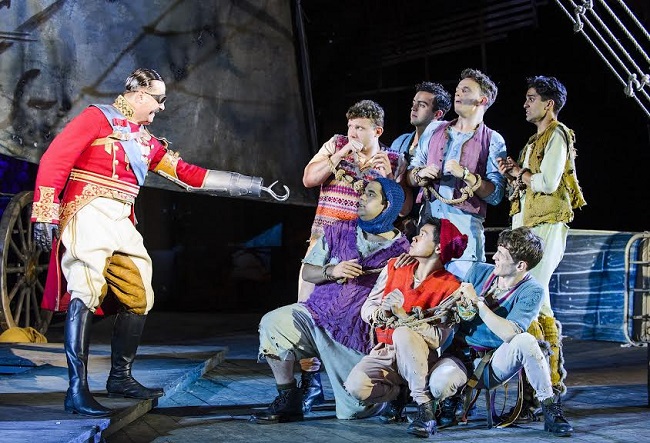 Everywhere, boyish imagination disregards the realities of war, and looks to mischievously repurpose its apparatus. A military hospital bed is converted into the wall of a whimsical Wendy house, while a trench step-ladder is manipulated into the snapping jaws of the crocodile which pursues Hook.
Talking of puppetry – Tinker Bell is a buzzy contraption made of light bulbs and other oddments, resembling a creature from a Pixar short. Some special mention is due Rachel Donovan's feisty animation.
On their bungee ropes, Peter and Wendy (Hiran Abeysekera and Kae Alexander) soar above all the no-man's-land of clutter and spirited chaos in this excitingly landscaped amphitheatre.
They exchange kisses with sweet awkwardness. Pan and the Boys are, in fact, not played by boys but by men – unusually. Their rather unusual shared 'desire' – and in particular Pan's desire – for a mother raises no fewer eyebrows now than it did in the Edwardian era.
Setting aside that curious question, one thing this show suggests is that greater than any man's desire for sexual or emotional security is a desire to be free of any grown-up reality at all.
Peter Pan is at Regent's Park Open Air Theatre until 14 June. Tickets: 0844 826 4242.