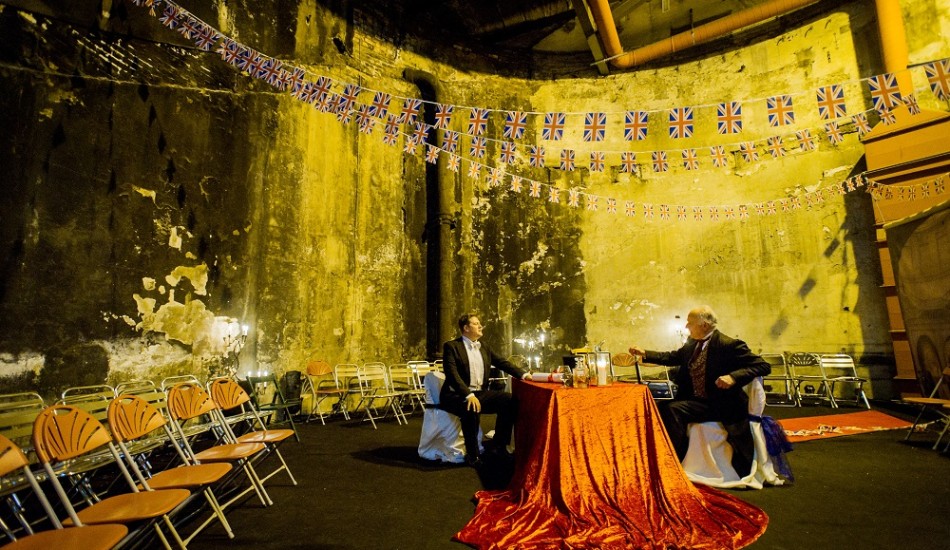 There's a chance you won't have heard of The Thames Tunnel; the world's first under river thoroughfare built in the 1800s below the Thames. Considering the facts (this was the largest tourist attraction in the world at the time) its a little absurd how little is made of this today. Nick Harrison's play mightn't make the tunnel much more famous, but it's a warming retelling of the drama behind its construction.
The Eighth Wonder of the World is only accessed via a quick hands-and-knees crawl, into the original space that led down to the tunnel. It's a stunning view inside, and a remarkable space for theatre; though the long way up to the outside world from within this Centuries-old Victorian relic isn't particularly comforting.
Martin Parr (behind the Rose Kingston's recent Hamlet) capably directs two talents, Peter Harding's Marc Brunel and Ben Eagle's frustrated son and head engineer to the project, Isambard Kingdom Brunel. The two half-hour scenes feel forceful played out in their original setting, and the stories of financial difficulty in construction – as well as the warring minds behind the project – make for good, watchable folly. This is more historical skit than character study, and there isn't necessarily a whole lot of depth to this script, but it's a worthwhile and enjoyable trip down nonetheless; into what was – for some time – the physical and symbolic beating heart of the British Empire.