In the heart of the Mendips, a stone's throw south of Bristol's alternative culture scene, is ArcTanGent Festival, an unmissable calendar event for fans of math, post, alt and noise-rock.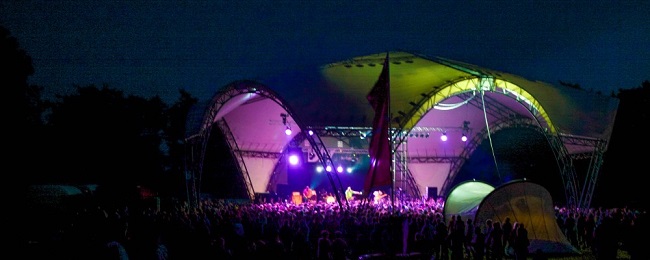 The Arc Stage. Photo credit, Musical Mathematics
ArcTanGent caters to a miscellany of musical niches across the rock spectrum, all the way from art-metal to the 'artisan dubstep' of home-grown electronic acts. This August, 5000 festivalgoers flocked to Fernhill Farm, home to this veritable playground of tremolo and two-stepping. Curated by the organisers of 2000 Trees, ArcTanGent's leftfield line-up attracts a crowd with specific wants. ArcTanGent is barely known to locals, yet it's a pilgrimage site for math-rock, post-rock and noise-rock fans.It means serious business and we were pushed to find a ticket holder whose sole aim was to get smashed in a Somerset field.
It's not just the music that's tailored to the refined palate of the average ArcTanGent frequenter. The festival's four stages were noticeably encircled by artisan coffee vans, local brewery stands and specialist food stalls – headbanging fuel for ATG's bearded, beanie-clad population. Anyone (i.e. everyone) nursing a post-silent-disco hangover could look forward to free range eggs and bacon, top-notch espresso from The Coffee Camper, or even a healthy hot mug of elderflower tea. ArcTanGent also boasts the UK's best festival toilets (an accolade it earned in its debut year), so theirs were about as far removed from scummy portaloos as a festival could offer.
Arriving at an already-muddied Fernhill Farm in near-zero visibility, our expectations for the weekend were equally foggy. Unwilling to let the yucky weather wreck our first impressions, we found that losing tent pegs in Thursday's thick mist was mildly less frustrating when soundtracked by Mylets' summery concoction of loop-laden math-funk, live from the Yohkai stage. Sets on the Yohkai were interspersed with an eclectic roster of BBC Introducing sets on the intimate PX3 stage. Here, Bath-based duo The Hysterical Injury – a thrashier, grassroots Sonic Youth – stood out amongst local and upcoming acts selling their musical wares to fresh ears.
Not overly enthused by the offerings of Japanese quartet Lite (once the pathfinders for early 2000s math-rock) or of speedy-paced instrumentalists Mutiny on the Bounty, the question on Thursday's lips remained whether or not returning soundscape wizards 65daysofstatic would deliver unforgettably. Hammering through the surrounding meteorological bleakness with anthemic tracks like 'Retreat! Retreat!' and winning the largely left-wing audience's affections with satirical anti-Tory chatter, 65daysofstatic sustained the necessary energy to work the crowd joyfully. But the same sound issues that delayed their performance numbed the impact of the band's more understated works from their 2013 LP, 'Wild Light'.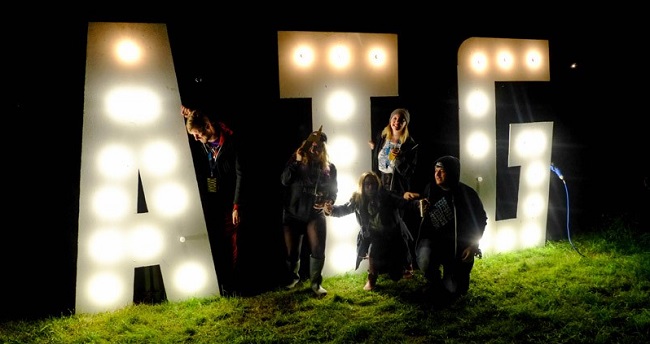 Photo credit, Paul Mason-Smith
Into Friday, Valerian Swing's set was equally subdued by similar technical issues, a distraction which caused the Italian post-rock trio to experience some timing errors– an easy mistake with rhythms as meticulous as theirs. With 15 years of touring experience under their leather jackets, the band's sense of disappointment was clearly visible – leaving the festival's mood only to be raised by Delta Sleep, who induced the Bixler stage's crowds into a state of afternoon chill. Friday's stand-out set arrived in the unlikely guise of a unique post-folk performance from Her Name Is Calla. Uniting ATG's crowds in silent awe, T.E. Morris' heartbreaking lyrical realism accompanied the elegiac sigh of violins and cellos. Just glimpsing crowd-spread tears during 'Condor and River' made for a special moment that captured the ArcTanGent community vibe. After all, the festival's crowds are united in their irrepressible passion and enthusiasm for the music they love. This unity manifested itself throughout the weekend in the crowds' respect and lack of judgement towards the most honest and emotional reactions to music, and the popularity of even early sets – the end of each set marked a mini-exodus to the nearest open stage.
ArcTanGent's 2015 line-up was unrecognisable from that of the previous year, in which post-rock fans were knocked out by a line-up which boasted international colossi including Mono and Russian Circles. This year's was significantly more metal-heavy, with noisier acts such as The Fall of Troy and Deafheaven occupying a large proportion of longer live slots. This may have been compensation for 2014's metal-light line-up, which left noise-rock and post-metal fans a little deprived of opportunities to mosh. Clearly the organisers weren't willing to compromise for the sake of a 'balanced' line-up. Though it is excellent to see the ATG organisers have listened to last year's feedback and introduced more metal bands, they must be careful not to go too far. ATG is unique as a UK festival specialising in art-rock and many fans of this music will not enjoy Dillinger-esque screamo. There already exists a wealth of metal festivals for those that way inclined, and many remain hopeful that this year's line-up transformation is only temporary.
It also worth noting that ATG is a very high intensity festival and metal bands only extenuate this. ArcTanGent might become more balanced if they consider more ambient artists, which many regulars already enjoy when in a more relaxed mood. Nonetheless, those who preferred to revel in crescendo than get involved in a circle pit were able to use this year's clashes to their advantage. The contrast between Friday's final acts emphasised this – crowds had the choice between the stripped-back folkiness of Emma Ruth Rundle and the chaotically powerful brute force of The Dillinger Escape Plan – with both acts earning rave reviews from their relevant audiences. There was also an abundance of acts of the livelier, fun-loving variety who were popular among both tribes. Armed with a six-string bass, a crazy selection of facial contortions and a lust for playing darn good tunes, skilful Scottish tricksters VASA certainly deserved a hat-tip in this category.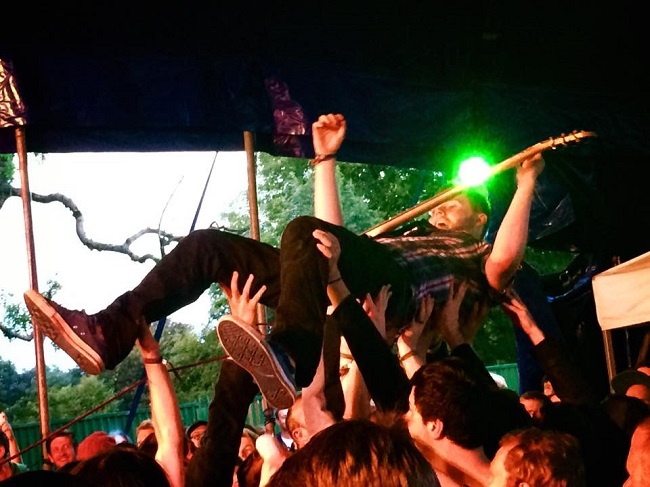 VASA stir up the PX3 stage at ArcTanGent 2015. Photo credit, Krystian Hudson
Staple festival sights – floral crowns, shoulder-sitting and downright daft fancy dress – were a lot less common at ATG. As predicted, many fans donned band T-shirts with pride (we eventually lost count of utterances of 'cool shirt, bro'). In line with the shift towards a more metallic line-up, 2015's ATGers adorned themselves in piercings, tattoos and Mastodon merch – a culture shock for those used to the glitteriness of mainstream festivals, but an accommodating sight for any alt-culture devotees wishing to (a) shrug off their subcultural minority status for the weekend and (b) shout the lyrics to Killing In The Name Of into a likeminded stranger's face at Saturday's Silent Disco.
If you're reading this as an ATG newbie, this is a defiantly atypical festival which will bring fieldloads of new experiences and new bands to discover. For its regulars, it's less of a music festival, and more of a way of life. Raucously fun and delightfully niche, ArcTanGent is the perfect weekend retreat for the rightfully picky festivalgoer – who's cemented enough in their live listening habits to know what makes an enjoyable performance and a festival to remember.
Fliss Radomska, Ben Gilbart