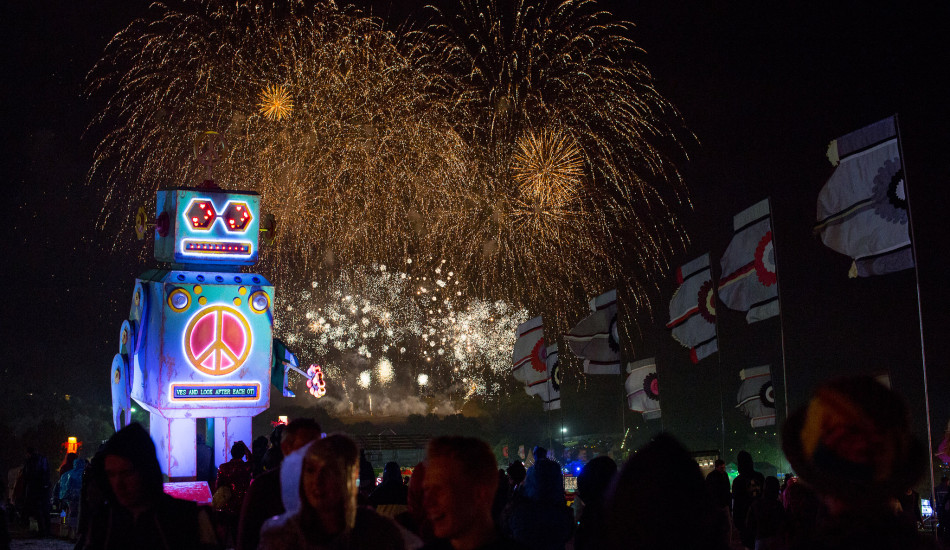 At the dawn of September, Bestival is a sort of nightcap for the British festival goer. It runs when the fun is almost up. And probably for that reason, it is the liveliest weekend of the festival season. It is a youthful and sprawling music festival with a knack for bashing through the genres. Its creative interests are unhinged and all-encompassing. You can do yoga here, dance all night, watch The Jacksons or visit a wild animal sanctuary. (Two, if you include the Big Top at 3am).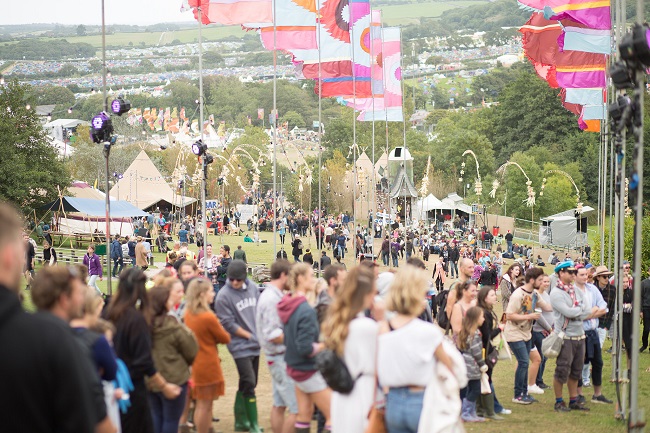 Photo credit, Tom Martin for Bestival
Save for one live music stage outside the arena that went this year, and a little more being made of the caravan cocktail emporium (Caravanserai), where by night there is live electro swing amongst a labyrinthine den of cocktail supping joints made from old caravans, Bestival 2015 – to walk around – felt like a carbon copy of Bestivals before. If you haven't been before, first-timers in 2015 enjoyed a year to go down as a firm favourite. And 2015's Bestival was decorated to the theme of "Summer of Love".
Brilliantly, people seemed to take the theme literally, with encasing 'Love Heart' sweets around their torsos, and some as 'Queen of Hearts' playing cards. The theme was cutesy and hilarious and, at times, filthy-memorable (name check to the set of Love Hearts that changed the words on the sweets to filthy slogans). Turns out, there is loads to do with 'Peace' dress up (everyone looks good in a multi-coloured shirt with a peace sign). On site, a sort of spiritual candlelit circle (The Commune) was viewable from the Main Stage crowd, a nice ode to hippy spirit; but it will be overshadowed in years to come by 2014's awesome stunt, the world's biggest disco ball that lifted and spun during Chic's headlining set, the finale to the 'Desert Island Disco' theme.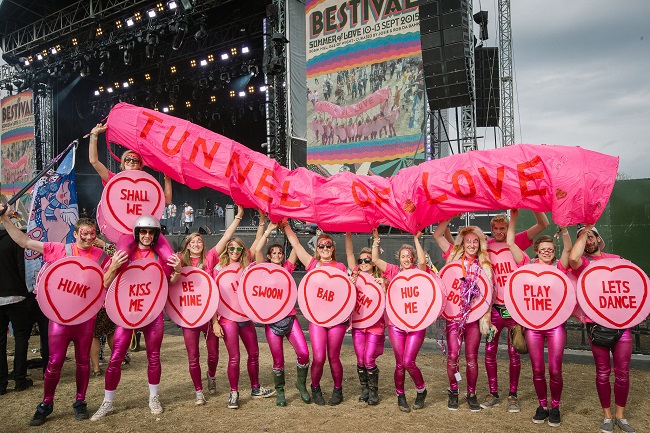 Photo credit, Victor Frankowski for Bestival
That same disco ball sat proudly on site a year on. It was both as a relic of good times, and a reminder that there was no instillation quite like it this year.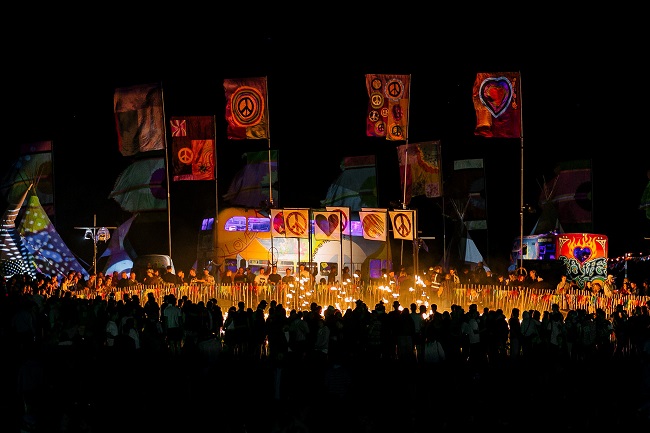 Photo credit, Dan Dennison for Bestival
Fans could have easily given a wide berth to Duran Duran and Missy Elliott, both major but unusual pulls from the De Banks, but nostalgic Duran Duran went on a hits-heavy rampage, and their new song Pressure Off ft. Janelle Monae is good modern pop rock song. Who would've known?
The Chems fitted like a glove on Saturday, party night; and then Sunday's pull, Missy Elliott, leapt about withstanding the threatening rain. She was a new kind of energy for Bestival, bluntly American in her delivery (no one has sounded less comfortable, or less certain of how to pronounce "Isle of Wight"). Her set delivered guest vocalists and huge, hung hip hop hooks. Her vocals seemed astounding in their power. It made for captivating viewing, though the second half was patchy and she ran thin on ideas.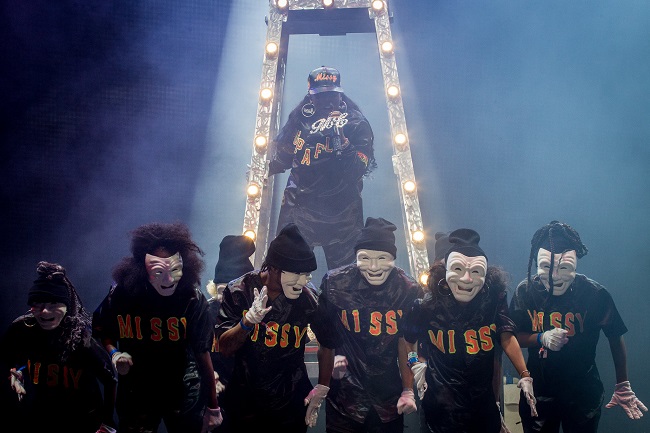 Photo credit, Victor Frankowski for Bestival
Skrillex closed The Port on Sunday night during a badly-timed rain storm, but his childlike zest and energy went unperturbed as he fought through playing to an edited version of what he would have seen before him– perhaps only a few thousand showed. The Port looks great from every direction. In the shadows of the festival's Ambient Forest – where couples wander at night – at the farthest stretch of the site, it is an unusual and aesthetic spot to catch DJs you'll usually find exclusively in dark rooms. It's best during the day, as international acts play to informal crowds with immersive acting happening on board. Head to the Big Top or Bollywood at night for a more intense club fit.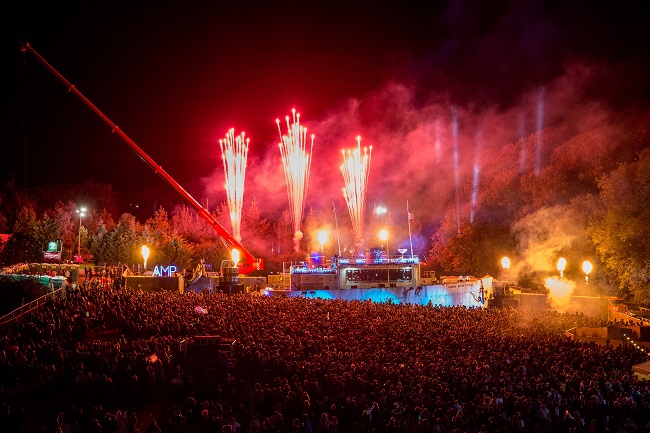 Photo credit, Carolina Faruolo for Bestival
Annie Mac's ascendancy to the main stage was a smart manoeuvre from Bestival, for dance music. Away from her scene of music, exposed on the Main Stage, she was a talented and authentic craftswoman. She generously nurtures the crowd with hits, interspersing those with her own cacophony of new dance tunes. For the main stage audience that don't go to The Port, or go out late at night, it was a gentle introduction to the fringes of modern dance, and to the heritage of classic Radio 1, Bestival originator Rob De Bank's own.
A collection of branded stages were at the bottom of Robin Hill Park's steep hill that houses the quieter side of things: yoga, a maze and the Bestiversity with speakers like Natalie Bennett, and outdoor games as well as a set of animals to pet.  Deisel Only The Brave, A Jäger stage and the new dance place, Temple Island, were these dynamic nightlife additions. On Saturday, this region is best to view the Carnival Day Parade with its hundreds of performers, against Bestival's panoramic backdrop where pockets of dancers, eaters at The Feast Collective and Main Stage dwellers are viewable.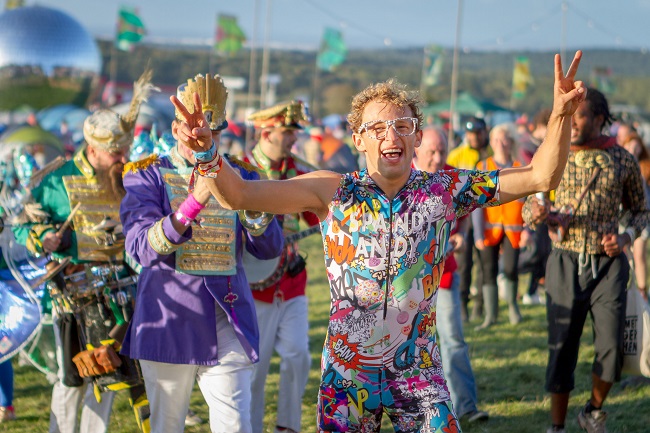 Photo credit, Bethany Conyers for Bestival
I doubt there is another festival with such disregard for the rules. Pegging The Jacksons and The Chuckle Brothers as almost equals (one performed around four pm on Saturday, the others around six pm on Sunday). It's because Bestival care more about nostalgia than they do about the coolest bands. Theirs is a playful take on music loving, and on festival culture, and it's felt all over the site in the little things. Liberatingly, you can bring your own alcoholic drinks in too, in open-top cups. Screw the zeitgeist, for a major festival, that's dictionary definition cool.
Find out more about Bestival's Caravanserai area, below, and keep up with us for more from the festival circuit