One of the great American plays of the 20th Century gets revisited in Leicester for this homegrown Curve production, directed by Nikolai Foster. Considered to be Tennessee Williams' best craft, A Streetcar Named Desire glistens, sizzles, captivates and enthrals.
It's not a short play (we're sitting for more than two and a half hours) but the performances are stunning, and we hardly notice the lack of seat padding. Blanche Dubois, the Southern Belle with dark secrets and a furtive imagination is expertly played by Charlie Brooks. In many ways, this expressionist piece of theatre is an early soap opera and Janine Butcher draws on all of her 'tears on tap' Walford experience, whilst adopting an American drawl, to dramatically document Blanche's descent into madness.
 Photo credit, Curve Theatre, Leicester Manuel Harlan
It's a play of contrasts. The feminine fantasy land occupied by Dubois couldn't be further from the macho, rough and ready, brutally honest, violent spit of Stanley Kowalski. Images of Orson Welles must loom large whenever considering Kowalski but the buff Stewart Clarke does a fine job in making the role his own. Women (and men) in the audience swoon in early scenes where a topless Clarke batters and bangs at the bathroom door. We're less enamoured but no less convinced when Kowalski breaks china plates and violently abuses his wife, Stella.
Stella, the younger sister of Dubois is more pragmatic and grounded, less idealistic. The stunning Dakota Blue Richards plays her with a steely, innocent charm. Her weakness in returning and forgiving her abusive husband compares with that of Harold Mitchell (Patrick Knowles), friends with Stanley and yet socially awkward, ripe for abuse of a verbal and emotional nature from Dubois.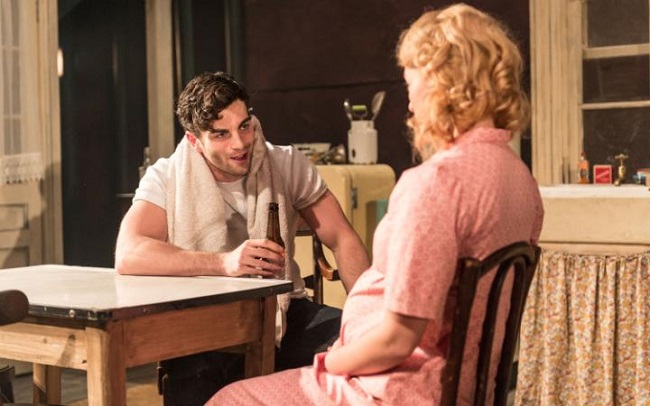 Photo credit, Curve Theatre, Leicester Manuel Harlan
The stage set in Curve studio is fabulous. Much of the action takes place within the Kowalski's two roomed flat. The bed that plays an integral part in many of the play's central scenes is prominent. To the left of the set, a staircase leads to the apartment blocks of others. We know that A Streetcar Named Desire is set in New Orleans in 1947 but the effect here is of an old West Side Story set being recycled. That's not a criticism though – having action on different levels gives the play extra variety.
Strong performances from the cast mixed with high production values give this grit and greatness. You'd be foolish not to catch this coach. Sean Tizzard