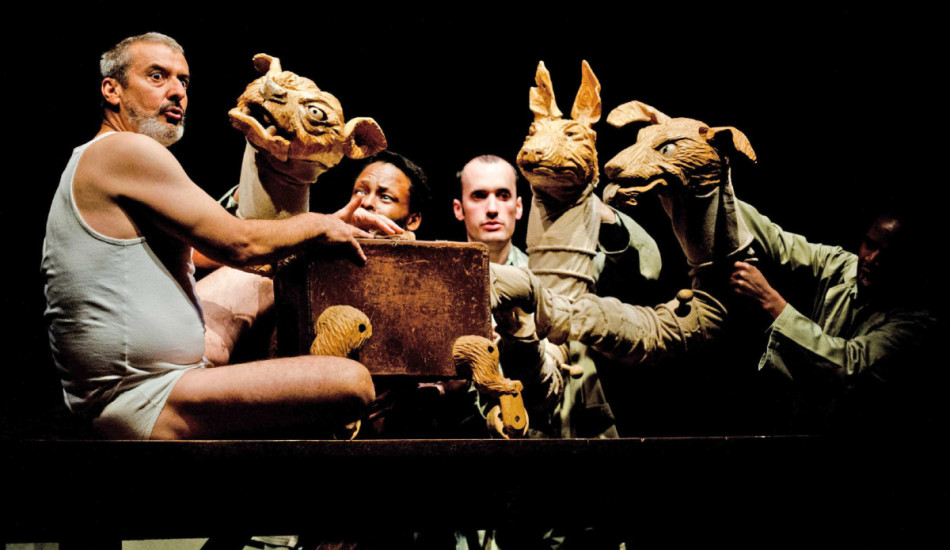 It is a good sign that UBU and the Truth Commission feels intimate and pressing, like a new political play, some twenty years after its première.
It is the work of South African artists William Kentridge, and the Handstring Puppet Company (behind War Horse), who return to London with a re-imagining of Alfred Jarry's Ubu Roi. It is partly a retelling of The Truth and Reconcilation Commission trials of the mid Nineties, at which South Africans guilty of apartheid violence were exposed.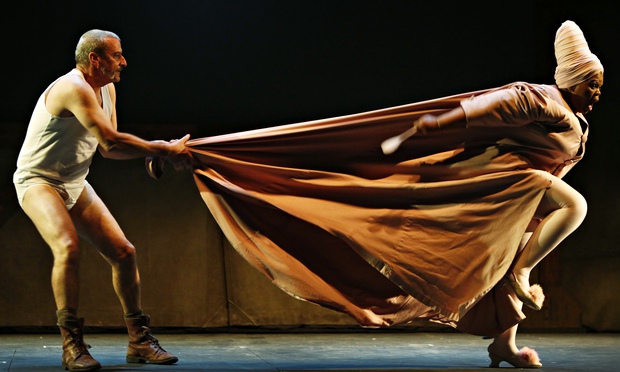 There are a number of ways director William Kentridge unpacks the horror of the apartheid. He gives us Pa and Ma Ubu, a married couple and the only non-puppets in the show, who play out the horrors of the apartheid via a metaphorical, unbalanced marriage. Pa is a reckless white male coward, symbolically led by violence. A disillusioned Ma convinces herself he is a cheater, but not a violent man. The scenes of puppetry and acting are played with a dark comedy that effectively hits at the moral imbalances between Pa and Ma – and therein, of apartheid racial violence.
The production, first performed in the UK twenty years ago, mixes visual effects that reminded of 1927's relatively more recent breakthrough piece The Animals and Children Took to the Streets. A screen plays animated videos – the director's first art – and there are real clips from the apartheid, and stunning puppet work from Handstring. It is a rich and generous feast for the eyes.
While there is much to be entertained by, the play is compromised by its long one long act, which at an hour and a half could have been cut into two.
Lastly, thank goodness for theatre practitioners Print Room ,who moved into Notting Hill's Coronet recently. The venue used to be a Victorian theatre. It's now gutted back to its original basic woods and metals. I wonder how their renovation will look? As it stands, old layers of decoration on top of one another, it is perhaps best left as it is. But back to the play: it's a sardonic play with puppets, about the apartheid: suitably unconventional and offbeat – if less fresh than it was in the Nineties – but still a visual display worth seeing.