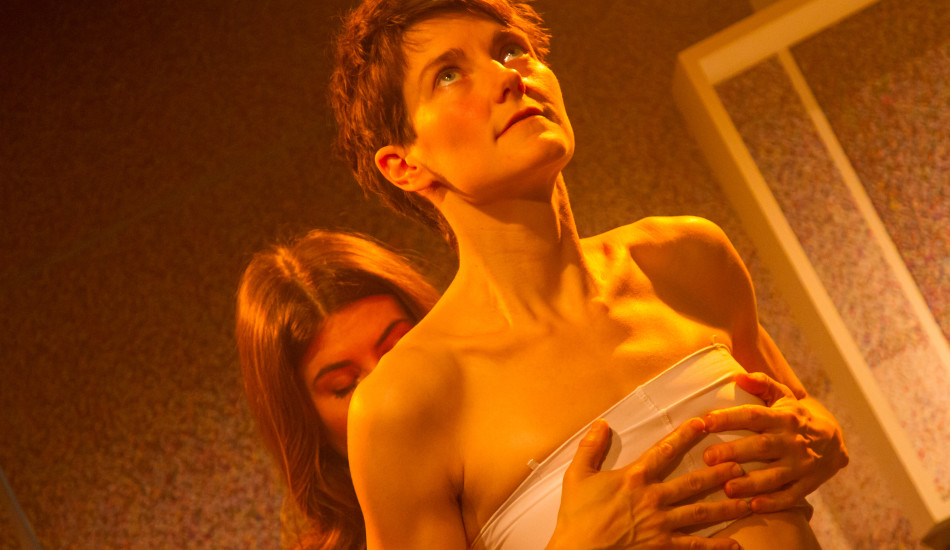 Discussion around transgenderism has become increasingly prevalent across the media landscape this year and, after centuries in the shadows, it's about time it took centre-stage. The battle for the acknowledgment, understanding and respect of this particular subset of society is certainly not the first and, unfortunately, will not be the last. Representations of society's heretofore shunned groups can sometimes be clumsy, overwrought or twee – a 30-second transition (pun unintended) from prejudice and misunderstanding to acceptance and hugs and kisses and musical crescendos and touching words from a stalwart elderly figure and oh, how magical it must be to be outside of the status quo.
While we're discussing prejudices, CultureOrTrash entered the small theatre above Battersea's The Latchemere pub with a niggling sense of trepidation. How could such huge human issues be tackled in a sensitive, meaningful and productive way in the space of two hours?
Alice and Fiona, played by Alice McCarthy and Anna Martine respectively, are British girlfriends working and living in Rotterdam. Alice seems to have spent her adult life preparing and organising; her default reaction is to make notes rather than deal with any real situation in front of her. She hasn't yet told her parents about her sexuality and doesn't seem totally comfortable wearing that huge, categorising label "gay". On New Year's Eve, Fiona, a tomboyish lesbian eeks out a 'confession' to Alice that she is, in fact, a trans male. What initially follows is a somewhat benign debate as to whether Alice would still be a lesbian if she continued to love Fiona, now Adrian.
What we begin to see, however, is deep turmoil. Alice adores Fiona and is on the cusp of entering a new life as a fully out lesbian; she has struggled for years with her identity – default life-ambitions like marriage, children, a white-picket-fenced suburban semi have been thrown into doubt – but she is beginning to imagine a happy life as a gay woman. The unravelling of Fiona's new identity once again pulls the rug from under Alice's feet, she has to question everything she has already re-learnt about herself.
This new script from Jon Brittain, the force behind the inimitable Margaret Thatcher: Queen of Soho, is thoughtful, natural and witty. Sad and troubling moments are not played for tears, though they certainly roll. Characters are unsettlingly exposed; it is humanity at its most vulnerable and most varied.
Buy tickets | Running until November 21st, at 7.45pm (Sundays at 5pm), 020 7978 7040