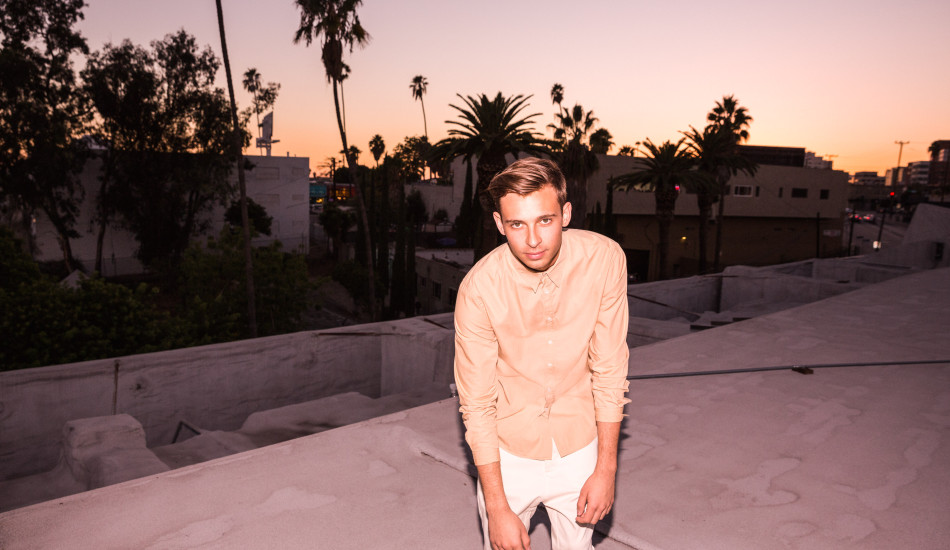 You'll either be swinging from the rafters at the news of Aussie beatmaker Flume's return with a sophomore album; or you'll be quietly confused. Who is he? He's the Future Classics signing whose self-titled 2012 debut was a stunning slice of varied, cinematic electronica – majoring in big beats, big drops and lo-fi atmospherics. He's back! Having worked quietly (and gigged very rarely) he now has Skin, a collection of songs that aren't due quite yet – but a second track from the LP, the noisier, heavier Smoke & Retribution, dropped on Feb 1st ahead of Skin later this year – which looks set to be a complex and versatile set of songs, characterized by heavily vocal looping and sampling, and a sense of genre-jumping unlike any other.

By comparison, Flume could well be the monster leading Sarah Hartman home – she's the newcomer whose Monster Leave Me Home is a guiltlessly chirpy and euphoric electro-pop anthem: its catchy driving guitar the sort of thing you'd find still stuck in your head at 5pm when you overheard it at lunch. (We'd imagine Hartman did this on purpose and we'd like to say, well done! And wish her all the success.)

And finally, cast aside any preconceptions when you listen to Troyka – Troyka Smash (Survival Skills Remix), a frenetic, multi-layered and frankly absurd piece of music. It sounds like bedroom noodling at its best, though there is a tight trio behind the song who have balanced obscurity with intrigue and left behind sped up beats, electronic pan pipes and striking chords.

Maybe I was wrong to mark the card of this bloody month so prematurely, because everything musical is confounding my expectations in February. Like The 1975. Sure, you could always trace where their sound came from, genetically – but you'd never have guessed that this Mancunian mob would go full-on retro for their second LP. Well, the likes of Love Me find The 1975 back IN 1975; funk guitar grinding up against Matthew Healy's blue-eyed soul. You can soundtrack your Valentine's solitude with that raunchy record.

There'll be veritable war and peace to Grandfeathered, the sophomore album of St Petersburg shoegazers Pinkshinyultrablast. The Cherry Pit is a gorgeously ethereal single, by turns choral and fuzzily incomprehensible – further proof that the Russians should never be underestimated.

By 2016, you'd be forgiven for the melancholy assumption that there's none of the old blues vanguard left. But Bonnie Raitt and that bottleneck guitar of hers keep on wailin', on new record Dig in Deep. "It's been good and I must be going", the Californian rasps on Gypsy in Me – a track offering a bite of the short 'n' sweet. She didn't get where she did today by hanging around, that roadtripper – quite literally.

On paper, lairy Brummie Lady Leshurr's Queen's Speech Ep.5 is shit: she raps about bin bags, crispy bacon, Cornwall and acorns. And you might listen to this minimal hip-hop track and still think it's shit, but you're wrong. You might notice that it's been engineered to match emoticons, but you can't deny that it's a bin bag's worth of fun. Best line? "Imma come to your door like Avon" – she's as much fun as Eminem and look how well he did.

Jack Garratt's Worry has been kicking around since December but is finally getting an official release in February. The track's slow burn out of obscurity is a good match for its sound, all morose lyrics (typical Sam Smith/Adele relationship misery), whimpering vocals and jerking synth bursts that scratch like a hangover. No, that doesn't sound much fun and it's not, but the growling guitar and earworm chorus means this deserves to break through to the mainstream.

Another moody, down-tempo track (it's definitely February) comes courtesy of Alessia Cara on Here, a sardonic kiss-off to a crap house party. Signed to Def Jam while still a teenager, Cara's soul is beyond her years and above the arse + boobflash = cash formula. It's an anthem to the misfit ("I ask myself what am I doing here?") but the classic strings/piano/deep bass soundscape elevates her message beyond her own generation. It's not going to lift your mood (Lady Leshurr's got that covered) but the overblown drama of it all is addictive. If you need a wallow this month, Cara's your girl.