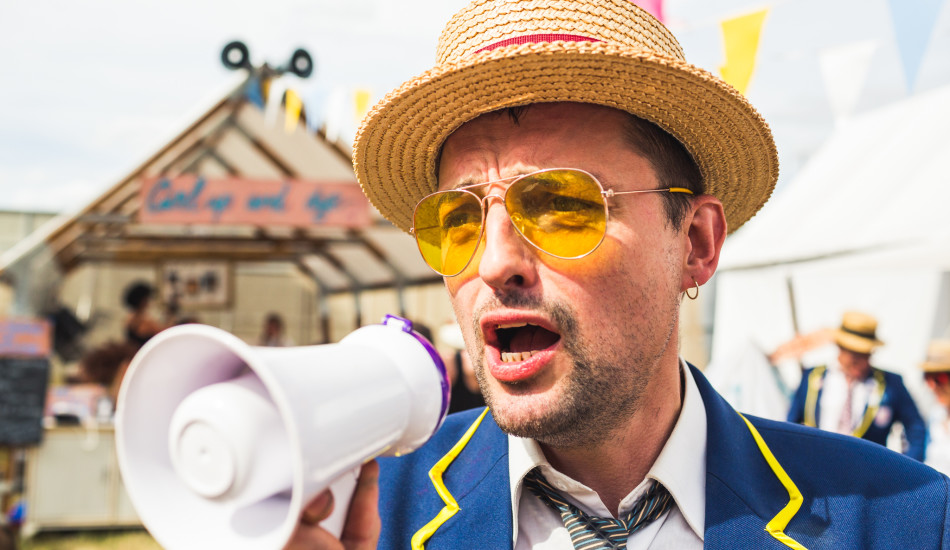 ON ARTS AT FESTIVALS

Just when you think it's all over and the lineups are in, Latitude announce their  Literary Arena 2016 guests, as well as the goings-on of The Wellcome Trust, who are on site this year (they're the world's largest medical research charity who house exhibitions in their public library near Euston). Top of the bill are Will Hutton, British political economist and writer and journalist, and Ben Macintyre, the Times newspaper columnist and historian.

They're joined by the Victoria & Albert Museum, on 'You Say You Want A Revolution?', and there's a talk called 'From Prince To Punk' that'll surely pack out.

Join Wellcome for The Wellcome Book Prize 2016 and a range of varied talks and debates, which include 'Social Standing & Your Health' and 'Love Thy Neighbour: The Dark Side'. Lighten the vibe with Festival of The Spoken Nerd, or go deeper at Ed Halliwell's talk on Mindfulness.

And there's more in from the Da Bank's: Bestival's Amphitheatre lineup includes the versatile modern choir, London Contemporary Voices and returning favourites Shitfaced Shakespeare.

Green Man have also been busy announcing their Literature stage: Welsh musician David Wrench is in conversation with Radio 1's Huw Stephens; and music journalists Laura Snapes and Jon Savage speak, and there's an annual Pop Quiz.

ON ROCK AT FESTIVALS

It's been a mixed few weeks for the Red Hot Chili Peppers, who have announced their new album will land shortly ahead of their UK festival dates.

But a bout of intestinal flu caused singer Anthony Kiedis to cancel some recent gigs – and he's had to deny rumours that he's relapsed into drug addiction.

The Glastonbury lineup may now be full – with Damon Albarn and Tame Impala just added…

But it still looks like there's room for a 'surprise' Radiohead set, if you go by an apparent slip of the tongue from Michael Eavis in May.

Meanwhile, the Stone Roses are due to get T in the Park off to a funky start, and have released a serviceable new single titled All For One.

Whether there'll be another 'resurrection' in the form of a third album remains to be seen. But there's certainly a new LP on the way now for Green Man headliners Wild Beasts.

Those journeying all the way to the Brecon Beacons to see the Beasts, and to catch a glimpse of Robert Plant, can only hope the former Led Zeppelin wailer isn't summoned to court instead – after a legal case over the writing of Stairway to Heaven caused the cancellation of Plant's show at London's Meltdown Festival this month.

ON POP AT FESTIVALS

Ok everybody, clear the decks: Glastonbury is coming from 22-26 June. For you slow people at the back who didn't join the dots, pop is short for popular and Glastonbury is certainly that – whether the 'purists' like to admit it or not, Glasto is a snuggly (ok, muddy) home for quality pop acts.

Which leads me nicely to Róisín Murphy, she of the occasional landmark pop eruption (I'm talking to you, 'Dear Miami'), taking to the West Holts Stage at 8:30pm on Friday. She'll be pumping out tracks from her soon-to-be-released album Take Her Up To Monto, due on 8th July: expect full-on ridiculous costume changery to ensue.

Also on Friday, Londoner Dua Lipa (her parents are from Kosovo and Albania) will slink onto The John Peel Stage. Undeniably gorgeous, happily there's substance too thanks to earworm choruses and a strong voice. She may just make it big this year, so catch her and judge for yourself.

I previously wrote in April that New Order were only doing Latitude this year, but it seems they can't resist the big G. Catch them on the Other Stage on Saturday.

Also, someone said something about Adele (?)

Bitches won't be dancing the night away for this headliner but the entire world knows it doesn't come much more P-for-popular than this lady at the moment.