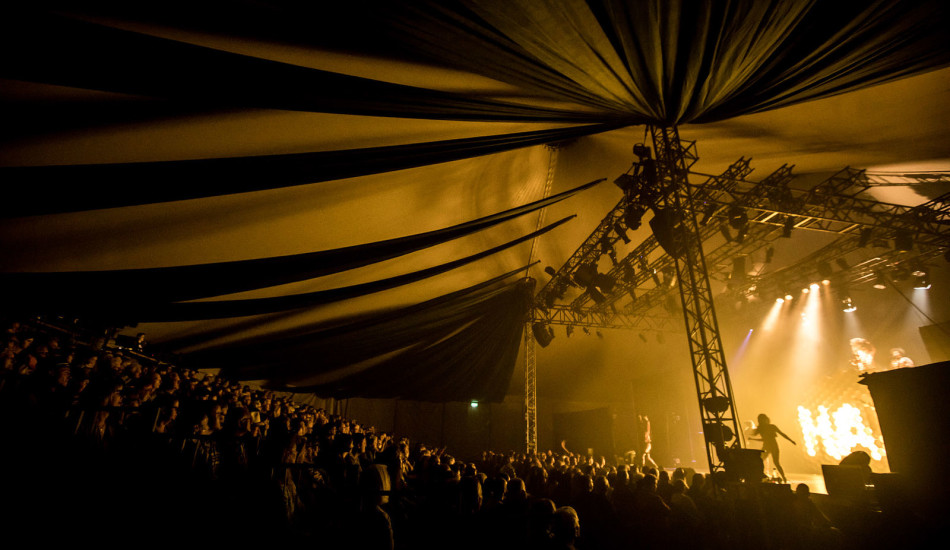 Loud, abrasive, truculent, exhausting: As we all know, the present-day Western world is volcanic – but never dull. True to form, the arts schedule at this weekend's Latitude Festival followed suit.
At Latitude, the multi-disciplinary arts lineup plays as big a role as the music. The Theatre tent is shielded from the bellowing music stages in its quiet woodland spot, but at Latitude you'll also find cabaret, comedy, film screenings and dance, as well as theatre troupes roaming across the site. 'Come the Revolution' was this year's theme, a typically provocative choice of words in an age of Trump, Brexit, redundant Prime Ministers and social unrest.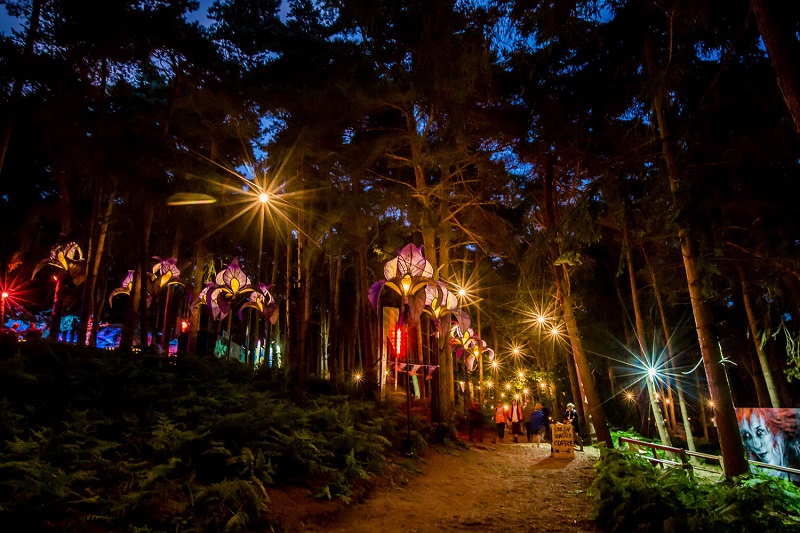 The verdant setting for Latitude's theatre
The Donald loomed large, whether he was being lampooned by lip-syncing drag queens in the Cabaret Theatre after dark, or having his pussy-grabbing proclivities brought to account by an all-female cast in the Theatre. The latter performance, Gary McNair's work in progress Locker Room Talk, didn't pull any punches. Presented by Traverse Theatre, the piece is inspired by Donald's infamous boast and built around McNair's various interviews with groups of men talking about women. Excerpts from the recordings are then acted out verbatim by four actresses with earpieces, resulting in hilarious, shocking, sickening and frustrating moments: giggling schoolboys claim girls "are no good at sports"; a prisoner explains why he choked his wife to death; a guy in a pub jokes about murdering women; one man underlines the need to "be responsible" with misogynistic banter. In other words, all men do it, but only the stupid ones let women hear it. It's uncomfortable and deeply provocative stuff, if incredibly heavy-handed. A few quiet voices suggest that 'locker room talk' spins out of control when dissenting men feel socially bound to join in, but any such development of the issue was muffled in favour of the more hysterical viewpoints – not dissimilar to the Trump administration.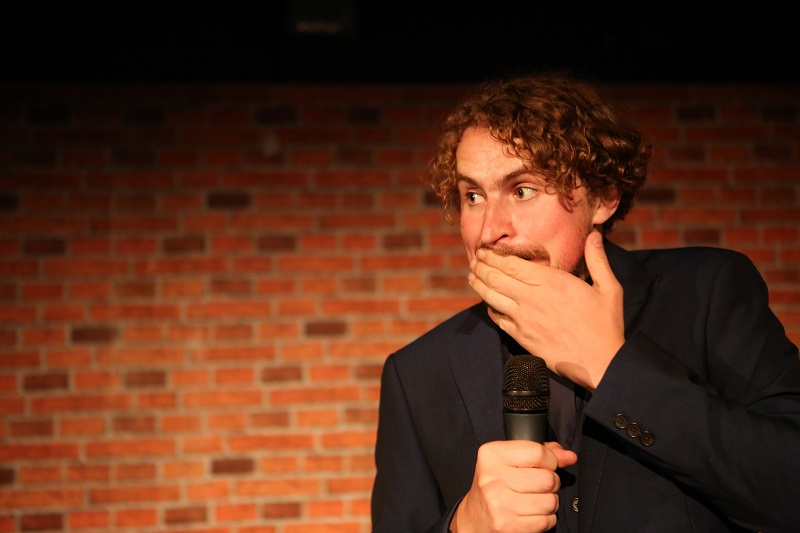 Gary McNair's Locker Room Talk
Over on the Comedy stage, a wheelchair-bound Reginald D Hunter (he's broken his leg, which can only be a good thing in showbiz) was also picking apart the social gauze between private and public. Bill Cosby? He was portrayed as such a good guy for such a long time in public, that all his bad bits became too much to suppress in private. As Hunter put it, he became Dark Bill. Ainsley Harriet? "I'm telling you, no n***er is ever that happy to cook!". Angela Merkel? She's got a Greek prisoner somewhere in the Black Forest to beat when she has a bad day. As usual, Hunter didn't dampen his fire but he held the audience effortlessly, tore the roof off and said plenty about the human condition to boot – who doesn't have a locker room dark side?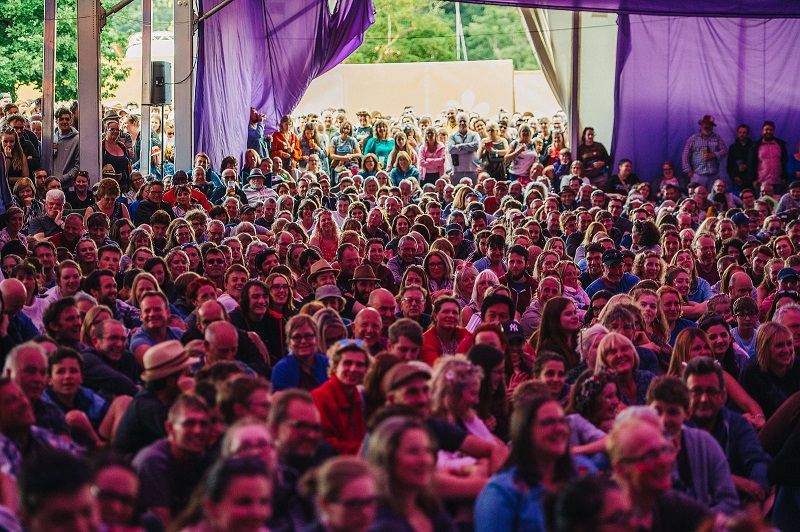 The Comedy Stage
Darker still, Sunday's performance of Paul Barritt's Cat & Mouse in the Theatre was a sensory onslaught, flinging the audience to the depths of the humanity. Combining a live band, projected animation and fierce narration from Miss Lesley Ewen (an angry Lady Gaga with a crown of cogs), this collaboration between The 1927 Theatre Company's Barritt and Village Underground tells the tale of cat vs. mouse. The bad mice force the unblinkingly good, innocent cats into war, obesity, slave labour, blindness and economic cul-de-sacs. One dystopian depiction after another gleefully tore across the screen as drums crashed, saxophones scratched and Ewen screeched; it was perhaps a bit much. A mysterious and omnipresent dog hovers over everything and seems to represent human conscience. After this bombardment of mouse atrocities, Ewen instructed the audience to judge and, of course, the cats were fingered. But no, declared the narrator: "Condemnation will be our damnation. Let them all go free". We must understand that the cat and mouse are one and the same, that 'us' and 'them' is a fallacy, and that we're all in it together. It was all very 2017. As with 1927's Golem (read our 2015 review here), Cat & Mouse's final message is perhaps too simplistic, and about as subtle as the Donald's combover.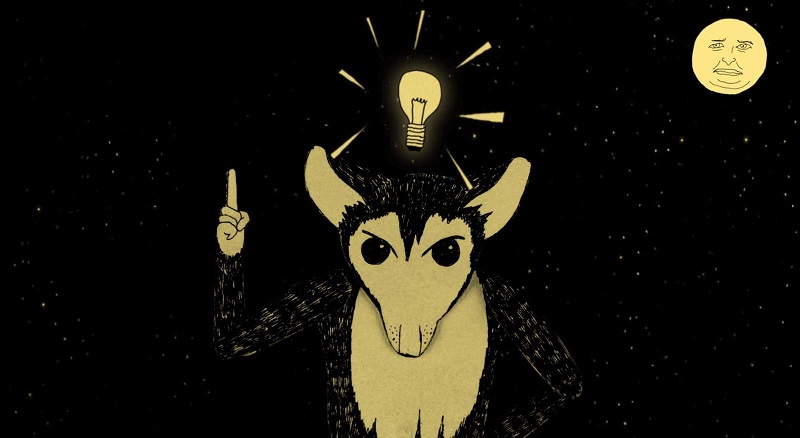 Cat & Mouse by 1927 Theatre Company
Our theatrical highlight of Latitude 2017 followed an hour later on the same stage. A beautifully orchestrated balancing act of live music, dance, mime and dramatics, Theatre Re'sThe Nature of Forgetting revolves around the inner workings of one human mind, which disintegrates as its consciousness streams across the stage. This dying mind belongs to Tom, whose life flits before the audience in no chronological order. The play's four actors communicate memory loss, daydreams, love and loss with barely any dialogue – choreography, music and lighting express meaning. Tom stands to speak at his own wedding, when words abandon him and a cheerful toast is hurriedly raised to shield his embarrassment. But the raised arms droop, the music distorts and cheeriness dims as Tom's memory of the moment falters, and we watch him paw helplessly at his gathered friends as he fails to hold the memory. The Nature of Forgetting physically conveys the destruction of a mind, which is a heart-breaking but magical thing to pull off. At the centre of it all, Guillaume Pigé as Tom delivered a boundlessly energetic, captivating performance. There was even a standing ovation. Voluntary standing from a stinking, hungover and drooling Sunday afternoon festival crowd? That's no mean feat. Get tickets for their Edinburgh Festival run here.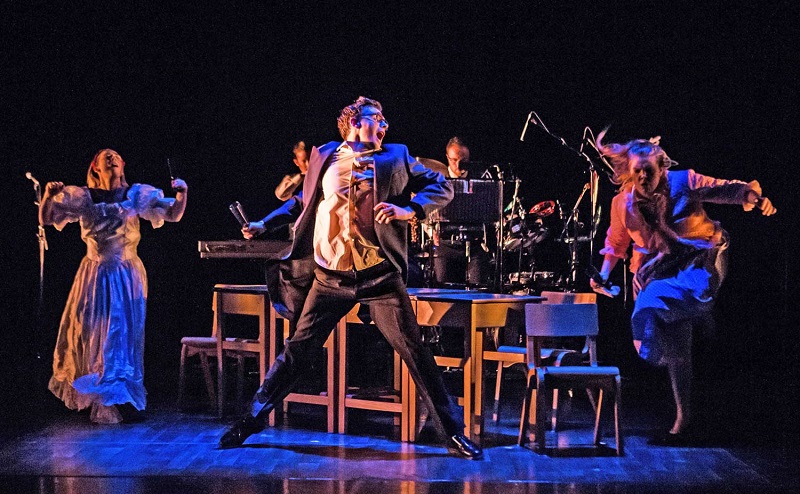 Theatre Re's The Nature of Forgetting
Elsewhere at Henham Park, Kathryn Jenkins warbled Hallelujah from a gondola, Saturday headliners Mumford & Sons had wrapped it up by 11pm, and Waitrose had a pop-up. Yes, Latitude knows its liberal, family-orientated ticketholders oh-so-well but, based on this weekend's arts output, it also knows exactly how to get them thinking.
Read C/T's exclusive review of the theatre at Glastonbury, and find out more about Theatre Re's The Nature of Forgetting by watching the video, below