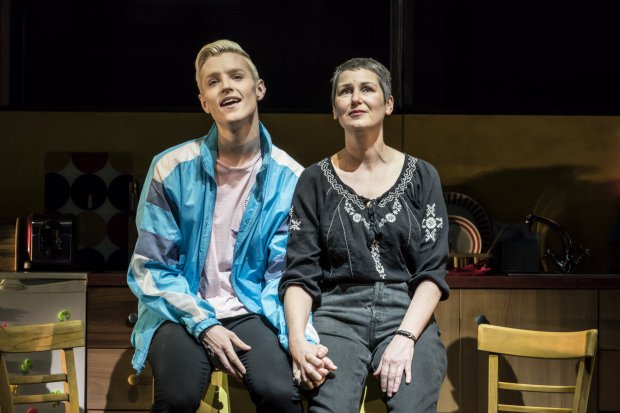 Stood in the bar at the Apollo on Shaftesbury Avenue waiting for the show to start, I overheard a man mutter "why can't these gay guys just act normally?" My first thought was that he'd definitely picked the wrong musical. My final thought, when the curtain fell on this sparkling West End debut, was that I hope he stayed long enough to learn something.
With a Sheffield run under its belt already, Everybody's Talking About Jamie tells the true-life story of a 16-year-old County Durham school boy who dreamt of becoming a drag queen, then aimed to attend his prom wearing a dress. The real Jamie Campbell somehow enlisted a BBC Three camera crew to document all of this (you can watch it on iPlayer), before a musical was mooted and here it is, from writer Tom MacRae and musician Dan Gillespie Sells (frontman of The Feeling).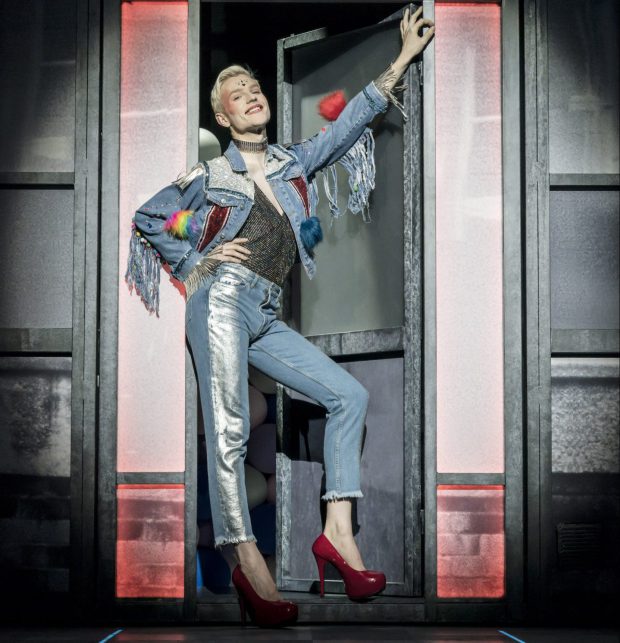 Sells' music is a sugary treat from start to finish, with nearly-too-many ballads kicked into shape by one high-octane pop drop-kick after another. There are foot-stomping chants, classroom dance breaks (Britney Spears would be all over this), a smattering of rap and plenty of absorbing opportunities for vocal acrobatics – fans of classic musical theatre will lap it up.
There's the risk that this happy-go-lucky carousel could feel a bit plastic (the show's dark elements never feel particularly threatening), but the talent on display here lifts Jamie from Peacocks to Prada: Lucie Shorthouse as the nerdy best friend is a diminutive powerhouse when the spotlight arrives; Jamie's martyr mum is delivered with simmering, nuanced force by Josie Walker; Mina Anwar demolishes scenery even when she's just standing there, playing the role of Jamie's second mum/proxy dad. Top billing thankfully goes to the right person though, because John McCrea as Jamie is as vulnerable, strong, witty, banal, fiery and stone-cold as his tricky part demands. He's convincing throughout, which is essential to Everybody's Talking About Jamie being as good as it is.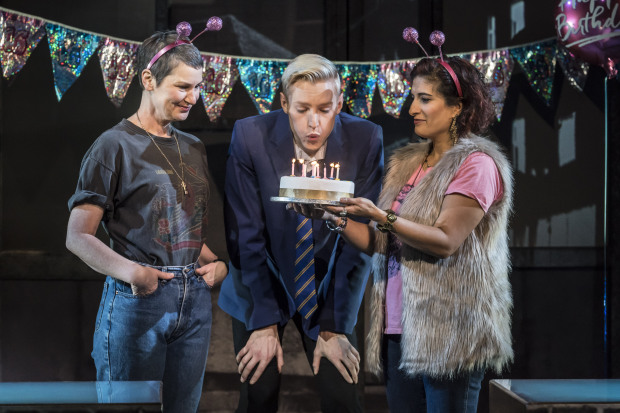 In fact, herein lies the only criticism: Jamie's unfurling drag queen potential is never fully released on stage, despite a tantalising glimpse of his power as the first half ends. After that, Jamie lets rip for the final number, but there just aren't enough doozy drag-queen moments to revel in here. But then again, don't they say you should always leave them wanting more?
Thanks to belting turns from many members of the cast, a consistent stream of laugh-out-loud moments and an important message delivered in sprays of fuck-you glitter, there's a hell of a lot to enjoy here. For a slice of classic musical theatre wearing an incredibly modern dress, Jamie's a joy.
Neil Simpson
Book tickets to Everybody's Talking About Jamie
Pictures: Johan Persson