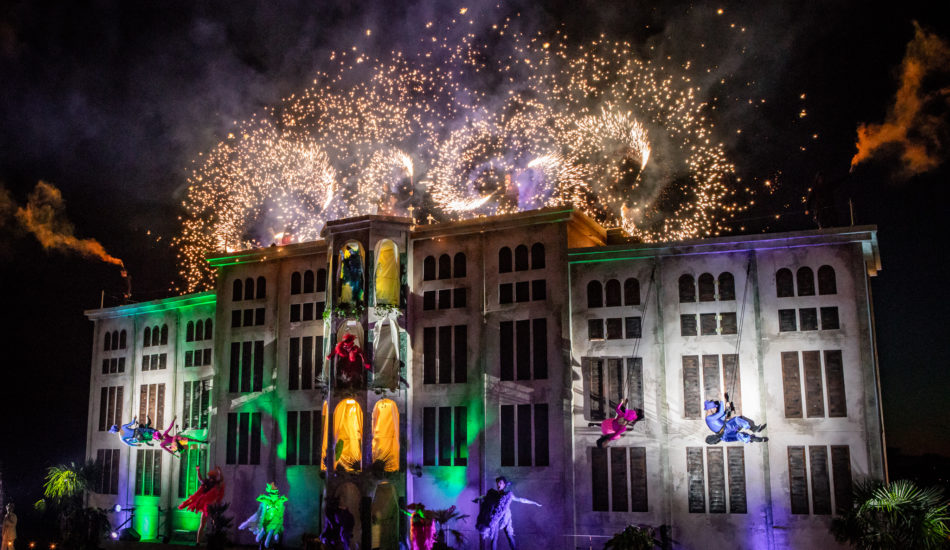 Glastonbury with a theme: that's the best way I can sum up this dizzying immersive romp of a festival that gets you hooked. After trying and failing to start writing this article ten or twenty times, 'Glastonbury with a theme' is the best reference and the one I'm settling on for Boomtown Fair, the monstrous party festival that overtakes Winchester every year. It is so impressive it is comparable, in scope, only to Glastonbury.
The festival, which celebrated its tenth year this year, is a seismic, sprawling mass of immersive theatre experiences. The general gist is that rather than spending money on a big name line-up Boomtown spend their dollar on making the festival look and feel absolutely larger than life.
Broken into districts, this is a fake world that goes further than a theme. There are no other events that come even close to these ambitious levels of design, build and concept. Boomtown builds a literal city for their annual beats, soul, reggae, drum 'n' bass, bassline and house and techno knees up.
It is, in every way, unmatched. Go to Paradise Heights, the posh district, and find real roulette tables with real clerks ready to take your fake Boomtown money. Traverse over to the Old Town and washer women from ye olde days will sneer at you from half-popped windows above your heads, while others pass food back and forward from houses on pulley systems. It feels like the London Dungeons just without tourists and with plenty of bars.
Downtown, stages are immersive too and made to feel like Southeast Asia, while another area features a live cabaret nightclub with dancers (made up in grotesque, ironic outfits) swinging on chairs in the window.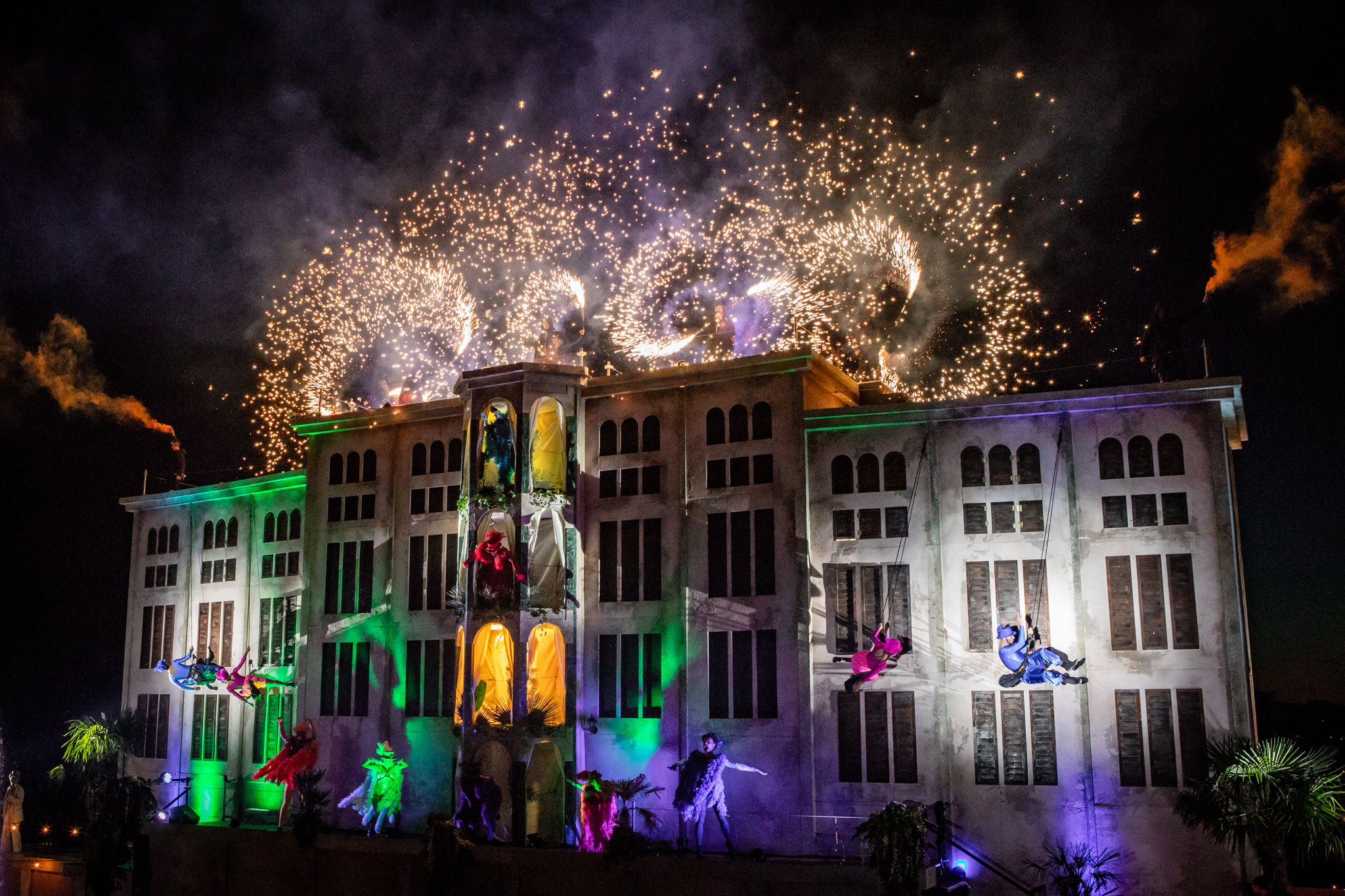 This is satire at its highest, and most unutterably silly. Earth's slimiest elements – big business, exploitation, greed – played out in live theatre sketches put on by hundreds of actors in a field in Winchester while bands like Soul II Soul, Gorillaz, Limp Bizkit and Maribou State represented a diverse selection of music tastes.
Okay, so the artists are bigger now than when the festival first started out. But still, there's less of an artist focus here than there is at other UK festivals. Music is a focus but punters are encouraged to keep wandering between districts as they explore the festival site's secrets, rather than band hopping all day long.
The most impressive stage, Bang Hai, is palm-sweatingly large. It's named after Bang Hai Industries, a made up corrupt company which features heavily in the storyline of the festival which grows and evolves every year. With its own viewing platform, it towers maybe 20 storeys above the ground, and features projection screens with audio-visuals the likes of Times Square or Piccadilly Circus. Those that have been know this is no exaggeration.
Boomtown's only caveat is that it is a serious party festival. And by that I mean don't go if you don't want to kick it, hard, until the early hours – or at least be prepared to hear others kick it hard until the early hours from the campsite. Trust us, we were in the new posh Boomtown Springs campsite (with its own club, swimming pool (!) and spacious camping) and we even had muppets keeping us up – in there. By the way, the £200 upgrade is *totally* worth it considering you're given £100 of that back in bar tokens – and you get lovely loos, showers and plenty of space, let alone your own immersive theatre entertainment all day long.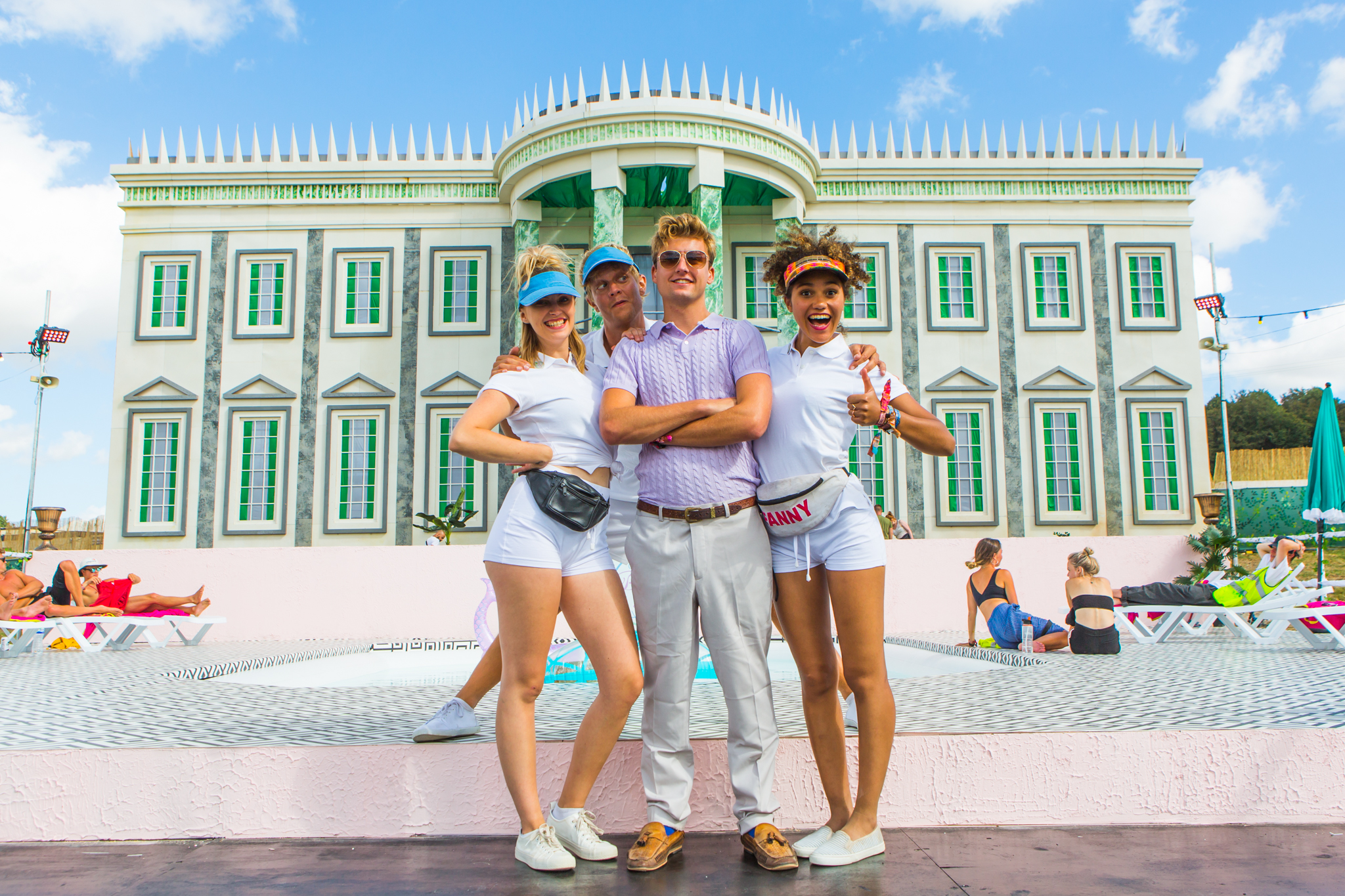 It's hard to run away from the party at Boomtown, which follows you from district to bonkers district. But even those part-time sessioners who still fancy the odd night: go for a day. Go to Boomtown for 24 hours. It'll change your festival perspective.
Boomtown Fair returns 7 – 12 August 2019 | Words by Adam Bloodworth