On paper, the Isle of Wight Festival ticks a whole host of boxes. Mid-sized pop outfits collide with heavyweights, and names you feel you should know clash with bands your dad told you you should like. And there aren't even that many stages. The crux of all this, of course, is that everyone wants to play the Isle of Wight – no matter what decade you were born in. Our first question to Taylor Momsen of The Pretty Reckless was shot down in seconds:
"Why the Isle of Wight?"

"Are you KIDDING?! Hendrix?! DUH!".
It's the Hendrix-effect that keeps Red Funnel ferries afloat. The dads who were here first when Hendrix turned up bring their daughters, who wave posters in The Vamps' direction, and those in between bop furiously to the likes of Chloe Howl or Nina Nesbitt, or chat drops at Duke Dumont. Regardless of your musical swaying points, the Isle of Wight Festival caters. It's like the Mr Kipling of the fest scene: recognisable, and super sweet.
Lame comparisons (almost) aside, there is something of the Mr Kipling familial effect that takes over the place. From Fall Out Boy to The 1975, there is little scene-y disparity – but maybe that's down to the locals. Our taxi driver told us the last murder on Blighty's White Isle was "at least twenty years ago" – are people here just nice? Either way, party on.
This general affability made Kings of Leon real quid's in headliners. Without any of their on-stage nonsense of yesteryear, the four piece from Tennessee could run cleanly through a chunky set of classics, the vibe upped by the IOW's open arms and an astoundingly good sound system on the main stage. After a mini break of a few years, the cousins-in-laws' set was ripe with tunes that weren't Because of the Times-heavy at all. Milk-era (proper) Leon sounded fuller of conviction than it has in years. So much so that it was even saleable to the 'Sex On Fire' masses, camped out on the front row with flares and Caleb Followhill cowboy hats.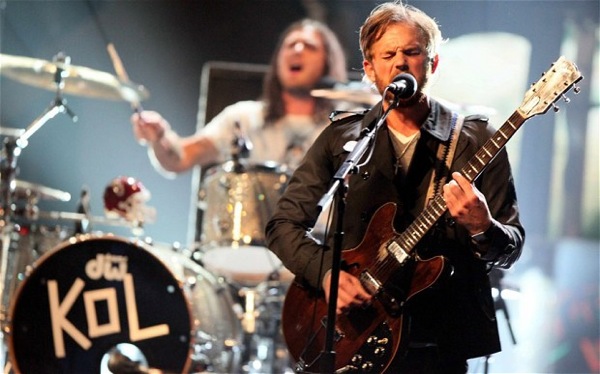 Luckily, the cowboy-hatted cliches and over-egged glam wasn't to be seen. 'Supersoaker' and 'Don't Matter' encouraged as little mid-set chatter as the inevitable pissed up 'Sex on Fire' screamathon that closed things out. Bravo – back to basics, lads.
Main stage clears, the ten pence cup collectors clear, and there is nothing left – Oh, except those '90s indie rock exponents Travis in the Big Top – whose last successful single dropped before half of this crowd were aware of what festivals were. "We've got a good few songs left" lead singer and '90s music mag pin-up Fran Healy said appreciatively as KOL's crowd began challenging the Big Top's bigness. Travis are what Sunday nights at festivals are all about: loping from 'Sing' to 'Turn', their nostalgic melodica meant something different to those who knew the tracks from the first time round than it did to those who just radio-recognised them. Personally, at 25, I fall between both parties, which made watching the colliding cultures of passers-by and the dads of passers-by ultra tear-jerky and resonant.
The mood was heightened by a band who state no claims to pretense at all. Healy, in front of one of the bigger crowds he's seen recently, looked as affected as us poor lot looking up at him.
"They were really good" and "I didn't realise they did all those songs" a couple of probable 1975 fans said as I walked back toward my tent, dashing tears from my eyes and craving a sing-a-long: Isle of Wight style. Shame press camping's so quiet.