They've been making Red Hot Chili Peppers t-shirts for three decades now, and the Isle of Wight this weekend must witness every last design, in every shape and size. The Chilis, who tonight rock up and rock out in punky rags, have ironically never been personal supporters of any clothing and have spent the last thirty years not only discharging themselves of malleable funk-rock hits, but also in progressive stages of undress. The brouhaha around their semi-nude appearance at last year's Super Bowl half-time show brought back memories of the ballsy ragamuffins who, in the '80s, gained notoriety for playing entirely naked except for 'sock on cocks'.
Tonight, everyone's mind is on balls. Football fever is this year's campsite virus; backstage, The 1975 hop about in skinny jeans and fire penalties at the former England goalie David James, and a sun-stroked media is goading the likes of Cher Lloyd and Alesha Dixon to practice their keep-ups. Now and again, Chili Peppers frontman Anthony Kiedis sashays through to take on all-comers at table-football.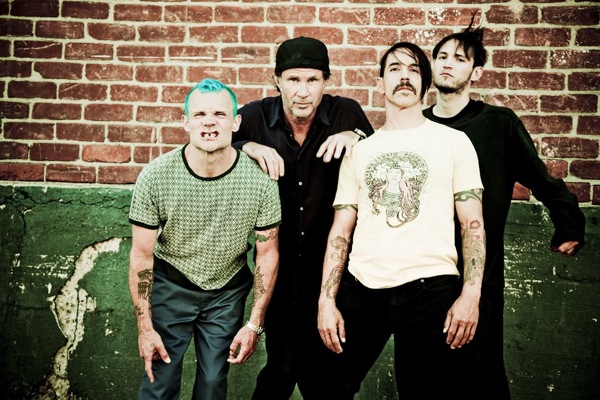 At the other end of the arena, a giant screen is fired up in preparation for England's opening World Cup match, which clashes with the latter half of the Chilis' set. It's a tough call for the neutrals, who are caught trying to choose between two teams of clowns: California's goofy groovemeisters, or our national football team.
The Chilis have not played a festival since 2007, but tonight they do with ease that none of their plural modern imitators has ever matched – which is to really put the 'fun' in 'funk'. Their opener, the enduring 'Can't Stop', sounds brighter than ever; bassist Flea and drummer Chad Smith verily assaulting their instruments in a long, hardcore, improv-led version.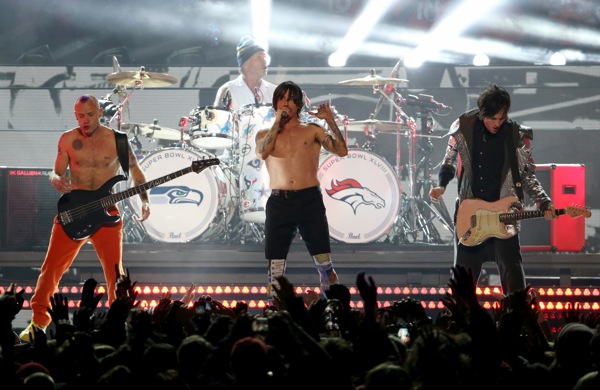 Between their trademark meandering jams and plenty of tomfoolery including handstands and inner-band expressions of love, the LA four-piece play some songs. Not many songs – their tardy appearance sees to that – but ravishing renditions which do particular justice to their newer and less acclaimed material. Well over a third of the tunes come from the Chilis' latest two albums, and, finally, songs like 'Factory of Faith' and 'The Adventures of Rain Dance Maggie' sound as settled as the old standards like 'Californication'. Newish guitarist Josh Klinghoffer, almost twenty years younger than his bandmates, is notably assured and seamless.
You don't sell all those t-shirts, not to mention 80 million records, without a legion of nerds who believe the band's fearsome technical chops are integral to the live energy. All of us are thrilled with the inclusion of oldie 'I Could Have Lied': a necessarily calmer track which, in 1991, signposted the Chili Peppers' move into more melodic territories. Of the same era is 'Blood Sugar Sex Magik'; choppier and more ominous than I have yet heard it. Culture or Trash remarks throughout the festival on exceptional sound quality, which can make clarity even out of the thrashings of Scotland's most glandular four-piece, Biffy Clyro.
Hauled off at midnight – everyone feels prematurely – 51 year-old Flea tells us he'd play for 'another ten hours' if he could. On a night when The Specials scrabble around for energy, the Chilis look and sound the very picture of vitality. And while N-Dubz goon Dappy is heckled off the festival's secondary stage wearing a ridiculous backpack, the Chilis once again show off the expressive art of disrobing. Stripped to the waist and leaping about like the maniacs they are, there's not a better bunch of athletes to be spotted, even in Brazil.