With BoomTown's invitation to 'Explore Our World' emblazoned on its logo, I was confident in my expectations of a great mid-weight fest that does most things right. Wrong! Wrong, wrong, wrong! As we suggested in our preview of Boomtown 2014, its successor – 2013 – turned out to be the festival's catalyst year for creative expansion. In fact, Boomtown this time next summer is expected to contend with the summer's largest fests.
This hugeness made the festival's character pop out from every corner. Boomtown's streets were lifelike with the gusto of a film set. Every door and alleyway was an entrance to a venue, shop, or something purposely placed to add to the mystique.
Walking around districts like the beats, bass, and breaks laden Downtown at night felt like dodging through only the filthiest parts of Victorian London, surrounded by thousands of strange creatures from every part of this planet – and a lot not of this world at all.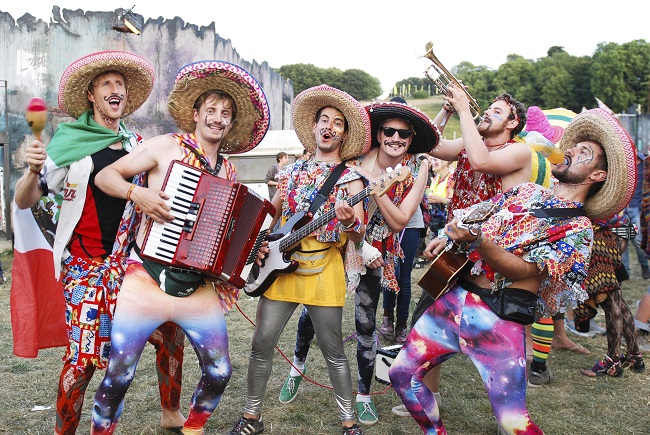 Mayfair was where only the most dapper and distinguished of eccentrics would be caught dead, darling.
The new Wild West district sported many a saloon bar and dusty highway, and the 100ft Jolly Dodger pirate ship stage in OldTown was a clear highlight. Like only the best trips, half the fun is simply mooching around site and taking in the day-to-day eccentricities.
Live action tomfoolery is constantly going on, as hoards of actors play parts and engulf you in what quickly becomes your own reality. Burrita Jose, the new mayor was hijacked and kidnapped by outlaw cowboys – I think god only knows her fate now. And as best I could, your intrepid C/T correspondent made sure he got stuck into the swing of things, of course…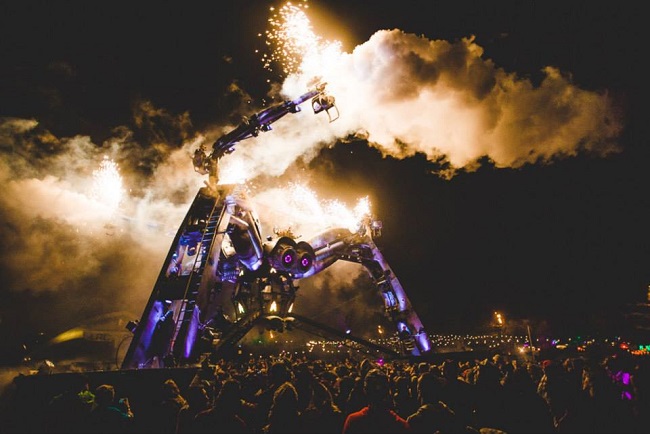 A chance encounter with notorious mobster Charlie Brown and his gang resulted in me enlisting in a raid of the Jolly Dodger bar. Storming the place, Charlie and his cronies jumped said bar, whilst the rest of us held drinkers up at gunpoint. Needless to say, security was a bit flustered, but took it in the good spirit of BoomTown. Remember, you must remain in character. Must remain in character at all times.
It's not possible to musically pigeonhole BoomTown. It's made up of every type of non-commercial party music you could wish for. There's nowhere to go if you refuse to get your knees up and have a little dance. All the Folk is of a Gypsy/Balkan/Cajun/Irish/Pirate nature, and Gypsy Hill started my festival with a suitably high-octane set on the Jolly Dodger. Swing styles were also in decadent supply, with The Ballroom housing the outstanding Original Rabbit Foot Spasm Band and dirty Electro Swing heavyweights Dutty Moonshine.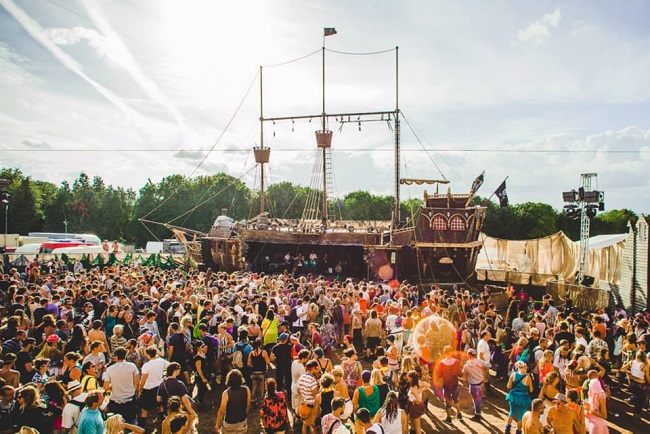 Ska and Reggae have been huge parts of the BoomTown fabric since year one. Midlands boys The Stiff Joints got the crowd skanking Chinatown Courtyard to its foundations, and The Skatalites brought the more trad ska form to the Town Centre.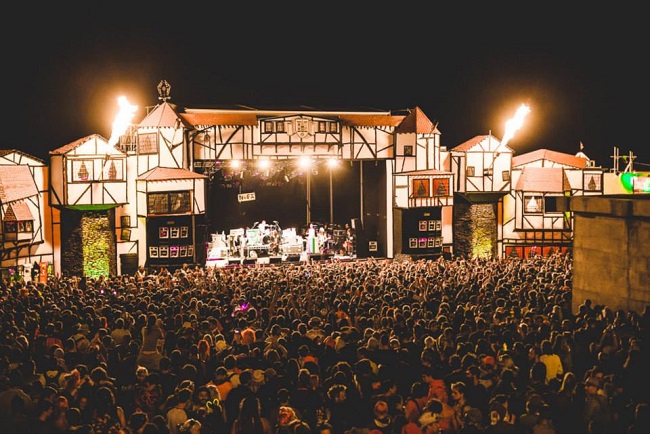 The Lions Den saw the biggest Reggae lineup you're likely to see, hosting; The Wailers, Easy Star All Stars, Warrior King and supergroup the UK Allstars. Punk is also in the festival's lifeblood, with Inner Terrestrials playing a strong set of squatty Dub Punk to the Devil Kicks Dancehall crowd. Every sort of electronic filthiness was at our disposal, with Optiv & BTK and Vandal the highlights of the infamous Arcadia stage. If you haven't heard DnB or Ragga Tek coming out of a gigantic, fire-breathing spider, you quite frankly have not lived (or only go to V).
We were also given perhaps our favourite experience of any festival over some eleven years of trialing: whilst partying, a dear friend blagged us on to a mobile rig shaped like a pirate ship, and we lapped the site a few times raving with an awesome crowd of others to assorted sounds. If such things are done quickly at Boomtown there's very little off-limits…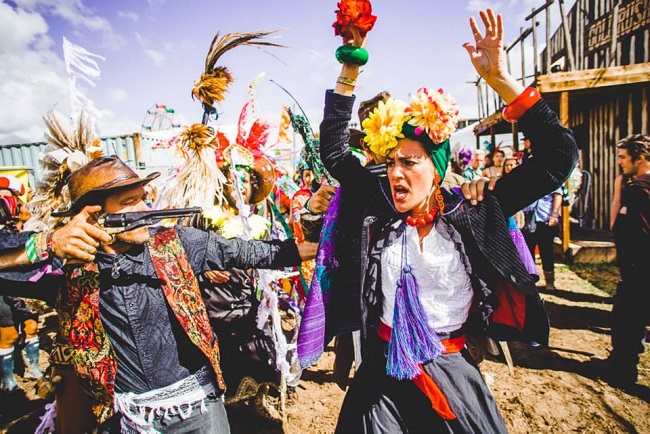 I can't remember the last time I saw torrential rain and gales of wind at BoomTown, but this year was off the chart late Saturday/early Sunday. This interfered with the main stage for a few hours on the Sunday, but it wasn't enough to stop the majority of the Boomtown crowd from enjoying the last –and arguably best – night of the festival. You can't help the weather, but you can help the vibe – and Boomtown, as ever, has upped it again, reinforcing our thoughts that this festival is perhaps the most creative of wonderlands this side of LSD.