Bristol has Glastonbury and London has Field Day. And no one wants to be in either city without tickets. If you enjoy holidaying literal minutes from your home, Field Day is the best shout in town this summer. It's the project of Eat Your Own Ears and our friends at BuggedOut!, and this year it celebrates its eighth birthday by spreading out into a two-dayer. Electronic pioneers Metronomy headline Saturday, and Sunday night welcomes The Pixies back to the festival circuit. We're in tatters thinking about it….
But comebacks aside, there are loads of reasons Field Day is a goer. Here are some of our favourites:
It's literally outside your house. Unless you live South, North or West. And nobody lives there
Scoffing the entire of Victoria Park for two days, Field Day is basically a garden party in Mile End. Glam-as-hell. Being out in the 'burbs makes it easy to come and go without fuss. Look at these people looking really stressed about catching last trains: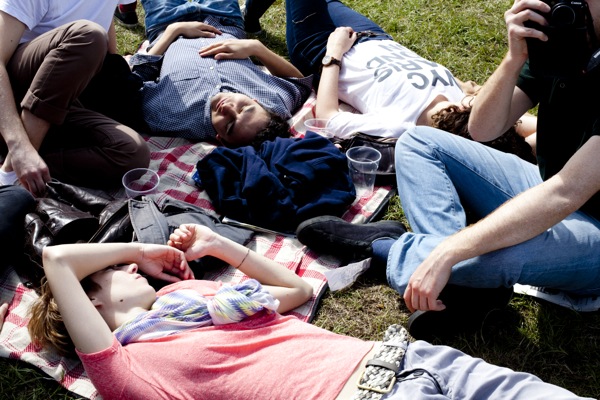 When you're done lazing on the floor, you can be productive by walking to the Street Feast team to buy food. Then you can lay back down again and eat
Internationally acclaimed food from Street Feast will be propping up the festival's Village Mentality area (Field Day is as much festival as it is a huge village fete) from first guitar pluck to final beat drop. The East end foodies will bring their own vibe to muse with Field Day's. Expect Hotbox's 9-hour smoked beef (there's a whole smoked meat craze going down at the moment with openings all over town…), but if you're after commoner options, there'll be artisan pizzas and pulled pork of all shapes and sizes. Meantime Brewery are also on site with Brewery-fresh lager, and The London Brewer's Market can advise on where the best craft ales are at in this fair town.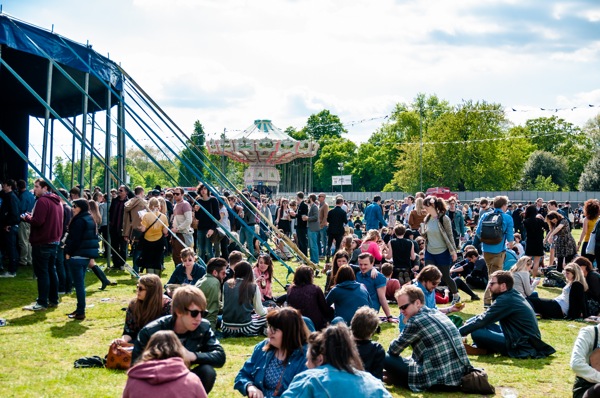 Tim Burgess' iconic Tim Peaks' coffee will also be on hand if you need a mid-afternoon pick-me-up, and we've saved the best 'til last: ultimate Clapham foodie trendsetters Venn Street Market are rocking up with all their mates from the market. Deep breath: Mamas Jerk, Mei Mei Street Cart, Taco Truck, Dhaba Lane, Wholefood Heaven, The Handmade Scotch Eggs Co and Anna Mae's will be on site!
Then lazy time's up. Put the beer down, finish your scotch egg and remember why you're here. The music's on
Double the line-up, double the time to catch double the line-up, and a 2014 festival circuit exclusive with The Pixies, Field Day has outdone its seven little siblings for 2014. On Saturday, must see's include spritzy '80s icon Neneh Cherry and her contemporary Sky Ferreira, and glossy female vocalists Warpaint. If you're after a geek-out, head for SBTRKT's sample wizardy and listen for Sampha's new solo work that they'll probably drop, and similarly, watch East India Youth and James Holden, who will work their sample-heavy live shows to perfection. If you're after guitars and melody, Culture Or Trash faves Teleman will make you cry with 'Christina', and if you're after House and Techno, Avery and Alkan are b2b-ing like they did at Green Man, but also check Jon Hopkins and a rare live set from Simian Mobile Disco. Then, dance 'til dawn to Todd Terje's disco fever:
Yeah, you caned it too hard on Saturday night didn't you. Luckily, Sunday's a chilled affair….
In the build up to The Pixies, there's rather a lot to contend with: crowds for Indie giants The Horrors will be huge, as will interest in Temples, the NME-rated psych thrashers who make their first appearance at this year's event. Of the rest, we'd highly recommend the slung melodies of Louis Baker, the groove-electronica of Future Islands, Mickey Lightfoot and our top pick: Marathon Artists' signing Childhood, whose prettified melodic pop wanders way off-piste and into the land of dreampop greatness:
Had enough yet? Of course not, but it's home time anyway. But listen on, and on, and on…
Field Day and Rough Trade have collaborated on a Field Day compilation CD for the second year. New and older names from the festival line-up who made the cut include Courtney Barnett, Jagwar Ma, John Wizards, Metronomy, The Pixies, Seun Kuti & Fela's Egypt 80, Blood Orange and Sohn. It's out to pre-order now.
You can pre order it here: http://www.roughtrade.com/albums/82453
And whilst you wait…
Check out Field Day Radio for (amongst other stuff) an interview with The Pixies.
All the fun of the fairground is hitting Victoria Park twice as hard this year – twice the reason to free up June 8th and 9th. Check back for more on Field Day from Culture Or Trash!
Are you heading to Field Day this year? Let us know who you're planning on catching on Twitter
Get hyped: Check out Field Day's promo video ahead of The Pixies set: